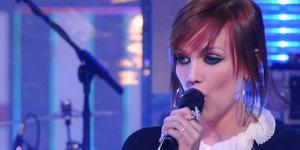 When Ashlee Simpson began her rise to fame (and later infamy) in 2004, the last thing the world needed was another pop star in her sister's mold—which was lucky for Ashlee, who does not have Jessica's vocal range (nor, need it be said, her Barbie looks). Packaged and primed, Ashlee was groomed to be the anti-Jessica, the Pat Benatar to Jessica's Olivia Newton John. With dark brown hair and that nose, she even managed to look the part. She was always more spunk than anything else, which was made abundantly clear when she was caught lip-synching on Saturday Night Live. (The outcry always seemed like so much TMZ faux-naif positioning.) If for no other reason, Ashlee has always been an interesting character to follow because the machinations of her handlers have always been blithely transparent. (Nose job? Sure! You look great! Almost as good as your sister!) All of this makes it almost incidental that her music is by far the more listenable. Here's the first single, Outta My Head, off her newest album, Bittersweet World—Aw, ain't it, though?
Toronto's Tokyo Police Club has it all: youth, chops and buzz. All they need is an album. After teasing their fans for three years with just two E.P.'s, they finally have the goods, Elephant Shell, due out today. They're post-punk with a knack for turning riffs into earworms. Their lead singer, Dave Monks, sounds Canadian in the New Pornographers vein. And the video for the single Tessellate is endearing. How can you not love them?
It's always with a bit of trepidation that one writes about reformed bands like Blind Melon and Whitesnake. Can Blind Melon be Blind Melon without Shannon Hoon? (This is actually a question that several of us used to ask each other in bad-band-geek drag around the office.) Is Whitesnake simply David Coverdale and whoever he choses to play with regardless of whether they banged the drums on "This Is Love" or any other of the band's hits? Considering the turbulent history of Whitesnake, the answer to the latter questions is a clear yes, but the answer to the former is a bit more elusive. Is it an ontological question or one of semantics? Probably neither. Consider it cynically and it becomes plain: it's one of economics. When the music sounds like it does below, what other answer is there? Blind Melon's first studio album in over 10 years is For My Friends. Whitesnake celebrates its 30th birthday with Good to Be Bad.
HBO did Flight of the Conchords the favor of introducing them to an American audience, first with a comedy special, then later with the comedy series which ran last year. They were in no small part responsible for the band winning a Grammy, the first for a New Zealand act in 24 years. So it would be wrong to suggest HBO has been anything but a positive influence on the careers of Jemaine Clement and Bret McKenzie. That being said … something is lost—call it spontaneity—when the cable channel does its elaborate productions of the duet's music for the series. It's just not as funny as it is when it's performed live. But maybe that would have been the case regardless of what type of production they did. The result of their labors can be heard for the first time on a self-titled CD to be released today. It's still good for plenty of chuckles.