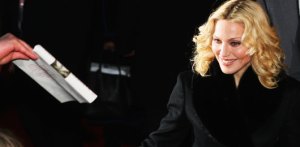 A curious (and perhaps shameful) thing has happened since Madonna's single, "Four Minutes to Save the World," off her new album Hard Candy (due out today), hit the Internet almost two months ago. At the time, in this same space, I wrote, "fans could be forgiven for cringing a bit at Madge's cool-as-a-cucumber delivery being drowned out by the 'urban,' brassy hip-hop beats. Was it Mommy telling us to turn the music down?" But then something happened … Several weeks later in a store, I found myself resisting the urge to tap my foot, to shake my hips and bop my head. What is this song?, I thought. It sounds … familiar. Oh, no. It then hit me like a bass-heavy chorus: I liked "Four Minutes to Save the World." Damn you Madonna!
When a band like Portishead—so popular in such a personal way due to their brand of trip-hop melancholia—goes on hiatus for over a decade, offering little fodder for the press and promising nothing in the way of a new album for much of that time, it can feel like one has lost a cherished friend. When it returns, like Portishead does today with Third (how appropriate!), it can feel like an unexpected reunion with one of two outcomes—either you've grown apart and its awkward or you pick up right where you left off, a little older, wiser, but still on the same wavelength. Luckily, it appears, from all accounts (and the taste below), that the fans of the Bristol band will experience the latter. They're still sad, but they've grown up, too. Welcome back, old friend!
Philadelphia hip-hop troupe The Roots has long been a favorite of hip-hop connoisseurs, if not the public at large. Founded by rapper Black Thought and drummer ?uestlove, they've separated themselves from the pack by insisting on live instrumentation both in concert and in the studio. Their lack of samples and growing political awareness probably accounts for their lack of a crossover hit, but this is, and always has been, hip-hop for adults (and smart kids). Rising Down, out today, is their ninth studio album.
Sweden's Robyn is no stranger to fame, even here in the United States. (Her 1997 hits, "Do You Know (What It Takes)" and "Show Me Love" made it into the Top Ten stateside.) So why does her fifth studio album, Robyn, to be released today, sound like a coming out party for the 28-year-old pop star? Perhaps it's because she's finally out from under the yoke of several record labels that threatened to derail her career permanently (one reason why no one's really heard from her since 1997). Paired up with countrymen Knife, she has experienced a creative rebirth—just ask Perez Hilton—which will surprise many who still remember her first time around the bend.
The Village Voice's Ian Mather's refers to Constantines as "Canada's apocalyptic poet laureates of hard work and commitment." Since the release of their second album, 2003's Shine a Light, this is the kind of language the band has inspired in fawning critics. Their dark, moody rock devoid of irony strikes an emo chord that few can resist. Try if you can: their newest, Kensington Heights, dares you.