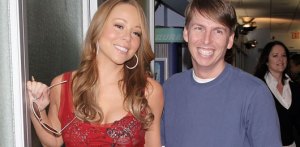 There's no stopping Mariah Carey. Her single, "Touch My Body," off her 11th studio album E=MC2, and its video have so many cringe-worthy moments—no one above the age of 18 should sing about youTube—that it's remarkable anyone can take this song seriously, let alone have it break the tie between her and Elvis for most chart-topping hits. (This is number 18 for Ms. Carey.) But Ms. Carey appears to have learned a couple of things during her meteoric rise to the top (she is only 38, by the way). Despite the song's lurid come-on, Ms. Carey makes the smart choice of not taking herself too seriously—she has always been the most playful of the Madonna, Janet, Whitney, Celine set. Jack McBrayer (30 Rock) does the heavy comedic lifting on the video. For her part, Ms. Carey appears in various phases of undress, shaking her assets (which would be the envy of any Equinox spinning class) and enjoying a laugh at the expense of Mr. McBrayer—and quite plausibly, her critics, too.
It always seemed as if the popularity of L.A. band Phantom Planet was due to two fun facts: actor Jason Schwartzman used to be their drummer (he dropped out around 2003) and their song, "California," was used as The O.C.'s theme song. It couldn't be that they were—gasp—good! As far as pop rock goes, however, Phantom Planet knows how to write a hook. (Mabye it's genetic. Bassist Sam Farrar is the son of songwriter John "You're the One That I Want" Farrar.) And the titular single, "Raise the Dead," (below, but forgive the cheesy slideshow) off their new album of the same name represents a strong step forward. Could a plug on Gossip Girl be far off?
You don't have to know where Antibes, France, is to hear the coastal town in the music of M83, the electronic collaboration of Nicolas Fromageau and Anthony Gonzalez. In his effusively positive review of their third album, 2005's Before the Dawn Heals Us, Brandon Stosuy writes that their second album, 2003's Dead Cities, Red Seas & Lost Ghosts, "found the duo lazing on their backs in an Antibes field, watching stars and birds gently collide above green mountain tops. A pleasingly disembodied traipse through the French countryside, it was a lesson for anybody who thinks electronics have no soul." Just think of their newest, Saturdays = Youth, as higher learning.
Never heard of the rock band from Minneapolis, the Plastic Constellations? Well, now that you have, don't get too attached. Their fourth full-length album, We Appreciate You, might just be their last. No tour is planned. It probably shouldn't come as a surprise; Plastic Constellations has always had the sound—their albums had the raw quality of live shows—of a band just barely getting by.
American Princes have taken the reverse path to notoriety (if it ever comes). They left New York City for the cozy (and affordable) confines of Little Rock, Ark. Two years later they were signed to Yep Rock (The Apples in Stereo, Fleshtones). Other People, released today, is their second on the label. "A few friends have said it's our 80's record, but it's probably more Tears For Fears or Tom Petty than New Order," said singer-guitarist David Slade. We won't hold that against you!