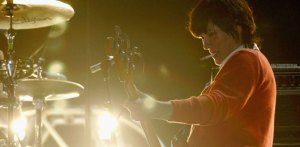 The year was 1993. The Pixies were fizzling out. It was time for a new quirky pop band to fill the void. (Who would provide that first track on some angsty 16-year-old's mix-tape?) The Breeders, featuring Pixies bassist Kim Deal (imagine that!), were that band. But alas, after a few semi-hits—"Cannonball" is the only song anyone with cable television remembers—they seemed a bit passé by, oh, 1996. By then, Ms. Deal was already busy with a little-remembered side project called the Amps. But here we are, some 15 years (and one milked-for-every-penny-it-was-worth Pixies reunion later), and who should have a new album out but … The Breeders! It's called Mountain Battles, and it's their fourth studio album, and first since 2002's Title TK. It's comforting in that, "I wish MTV still had shows like 120 Minutes" sort of way. As for the quality of the album itself, Radar writes that Battles "sounds like it came from the clouded minds of exalted 40-something indie-frumps who were hotboxing a 1982 Datsun in a Dayton, Ohio, parking lot." Sounds good to us!
It seems fitting that Philadelphia's Man Man releases Rabbit Habits today—the same day as the U.S. release of Nick Cave and the Bad Seeds 14th studio album, Dig Lazarus Dig (on the same label, Anti-, no less). Man Man has drawn comparisons to Nick Cave and the Bad Seeds for their haunting and theatrical neo-cabaret vibe. When Man Man's last album, Six Demon Bag, came out in 2006, I wrote that it sounded like "Tom Waits, Nick Cave and Screamin' Jay Hawkins dancing around a bonfire in the woods while reciting passages from Grimm's Fairy Tales." Based on early listens of Rabbit Habits, that description is still accurate.
Back in 2005, Decemberists front man Colin Meloy released a self-made EP of Morrissey covers that was only available for purchase at shows on his current U.S. solo tour. They sold out like hot cakes, with copies going on eBay for close to $50 (granted that's probably more a testament to the craziness of Morrissey fans than to Mr. Meloy's musical prowess). Since then, Mr. Meloy has produced tour-only EPs in tribute to Shirley Collins and Sam Cooke. But now, he has a live solo album of his own tunes that comes out today on Kill Rock Stars. Titled Colin Meloy Sings Live!, the disc includes Decemberists hits like "The Bachelor and the Bride," "The Engine Driver," and "We Both Go Down Together," complete with those fawning audience sing-a-longs that only a literary indie rocker could inspire. How cute.
What to say about Tapes 'n Tapes. They put out an EP a few years back, then a bunch of music-nerd bloggers started raving about them, and before you knew it, it seemed like they were the all-time Pitchfork "it-band," selling out respectable rock venues like it was their destiny. Such is the power of the Internet hype machine, which will no doubt be in full force today (this write-up, included) with the release of Walk It Off, the band's second full-length on XL Recordings.
Remember Clinic? That weird band from England with the hospital masks and the creepy, organ-laden indie-pop tunes? Well, they're back! OK, so they never really went away. (I guess I'm out of the loop!) Their fifth album, Do It!, comes out today on Domino.