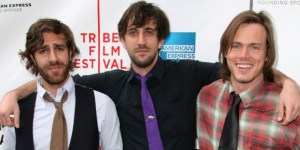 "This was sort of the project that started all of our careers," said Adam Kurland, co-director of This is Not a Robbery, a documentary that is screening for the public tonight as part of the Tribeca Film Festival.
He was referring to himself and his co-directors, Lucas Jansen and Spencer Vrooman, who gathered at Marion's on the Bowery Saturday night after the film's glitzy premiere. At the after-party were the likes of Lauren Bush and Ralph Lauren; the three were wearing ties, and it didn't look habitual with them.
The triumvirate began working on the documentary about J.L. "Red" Rountree, a 86-year-old serial bank-robber, in 2005 and got Andrew Lauren—yes, that's Ralph's son—to come on board as a producer in 2006.
"When we started it, it was just three dudes and we shot the whole thing before pitching it around," said Mr. Jansen. "I didn't even like the idea of making movies. I have family in the industry and always wanted to steer clear, but this story was too good, so good that we all decided we had to start careers in film industry."
Mr. Vrooman said that partnering with Mr. Lauren's company was clearly the best fit early on. "It's crazy, you do this speed-dating thing where you have a couple of minutes to pitch your movie and then you go to another distributor and another producer, and that was the meeting that turned out to be the fruitful one."
"Their company was very hands on," added Mr. Kurland.
"I've never even seen it blown up that big!" said Mr. Jansen. "We've only watched it on a screen quarter that size, so it was a premiere for us too!"
So what'd you think Mr. I-wasn't-even-into-making-movies?
"It looked beautiful."