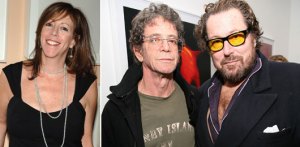 There will be 120 feature films screening at the Tribeca Film Festival between April 23 and May 4, among them the documentary Run for Your Life, about the origins of the New York City Marathon and its founder, Fred Lebow. "[The marathon] was about trying to bring everybody, all five boroughs, together," said Jane Rosenthal, co-founder of the film festival. "I found—as someone who's put on this event—watching someone else create this major cultural event … fascinating." Ms. Rosenthal spoke of Lebow's challenges—1970s New York was in an economic slump, Gerald Ford had recently told it to "drop dead"—and while the marathon organizers were interested in the pure sportsmanship of running, "it was also very much, 'We're going to put on a show,'" she said, smiling. "Which is kind of how we approached our first festival."
It's an apt analogy, though the marathon took just one day of the city's attention, not 12, and even as it toured the city's five boroughs it was less sprawling than Ms. Rosenthal's Tribeca has been in the past. Started in the spring of 2002 by Ms. Rosenthal and business partners Craig Hatkoff and Robert De Niro, Tribeca aimed to bring life and commerce to a devastated, post-9/11 downtown—like the marathon, it was a feel-good event as much as anything. But over the last half-dozen years, as Tribeca grew into a glitzy stopover on the film festival circuit that includes Sundance, Berlin, Cannes, Toronto and it's uptown neighbor, the New York Film Festival, the event has come to seem too small and too big at once, a perpetual kid.
Tribeca has always suffered comparisons to it's older, more important siblings. It doesn't have the old-world glamour of the red carpets of Cannes, the international marketplace hagglings at Toronto or Berlin, the late-night frenzied dealings and celebrity swagfest of Sundance or the elegant prestige found at Lincoln Center. It hasn't even had a central location, what with theaters all over the city hosting screenings, and downtown itself a strange labyrinth of high-end restaurants and hotels. What Tribeca has had is a lot: hundreds of films; paparazzi-lined Hollywood-style premieres; family film and ESPN sports-themed programming; artist round-table discussions; outdoor "drive-in" screenings; concerts; and audience-participatory events. (This year, director John Landis will host a 25th-anniversary screening of the epic video for Michael Jackson's "Thriller," where audiences are invited to "learn the Thriller dance," get zombie-fied at a Thriller face-painting station, compete in a Michael Jackson look-alike contest or boogie at the Solid Gold Dance party.)
Given the overwhelming confusion of choices (for the "Thriller" video alone, four separate activities?), Tribeca has consistently faced cries of complaint: It's unmanageable, the venues are all over the place, ticket prices are too high, it doesn't generate the kind of sales that make Variety headlines, it's just too much. At seven years old, it's time to ask: Can Tribeca grow up?
"I read somewhere that in New York the default mode is complaint," said Tribeca Film Festival artistic director Peter Scarlet. When the New York Film Festival started in 1963, he pointed out, the New York press responded with a "reaction of distaste mixed with horror, not unlike that you saw with '50s sci-fi movies when something landed from another galaxy. But gradually, humans being what they are, and the New York Film Festival being what it is—a pretty terrific film festival—New Yorkers actually relaxed their sphincters and got used to it. Now it's an accepted part of the cultural fabric of New York. And then this other monster called Tribeca came along seven years ago and it was like, 'Oh my God it's so big!' Which seems kind of ridiculous because New York is the town of everything bigger than everything else. I mean, nobody complained that the Empire State Building is too tall."
That's true, because the Empire State Building's height is what allows us all to appreciate it. Tribeca has faced the opposite problem, being so big as to be impossible to appreciate.
"Everyone has their opinion," said Tribeca's director of programming, David Kwok. "I think when you come so strongly out of the gate, people want to criticize or have their own perspective of how it should be. Especially when it's new. It's almost natural instinct for some people—it's easier to take a jab than to look at the positives. Whether it's fair or not is not for me to say."
As one industry insider put it, "They're a film festival on the defensive."
HAVE THE CRITICS been too harsh? "I keep quoting Keith Richards, because I cannot analyze it anymore. It just is what it is," said Ms. Rosenthal, days from Tribeca's opening night kickoff on April 23, a celebrity-packed premiere of Baby Mama at the Ziegfeld Theater. Ms. Rosenthal gave a pointedly silent shrug. "It's just a film festival; it's not like analyzing a heart procedure." Ms. Rosenthal was sitting in a sunny office at Tribeca Film Festival headquarters, a rosy-bricked building on Greenwich street, walls adorned with classic movie posters and black-and-white portraits of past festival participants. Seven floors below, the first truly warm day of the season had office workers leaning against buildings, turning their winter-pallored faces skyward; the sidewalks were bustling, and construction of new buildings rumbled in the distance—all a far cry from seven years ago. "The neighborhood has rebounded more than anyone could have imagined," she said. "It's the human spirit—it's so New York."
There's no question that 2008 shows a Tribeca Film Festival trying to respond to its critics: the number of films has been scaled down by 25 percent. Venues—the biggest challenge for organizers in a city of this size—are mostly below 23rd Street and within easy subway distance. Ticket prices have been lowered, distributors have been carefully courted. More than one acquisitions executive commended the Tribeca team (particularly co-executive directors Nancy Schafer and Paola Freccero) for their friendly buyer outreach program.