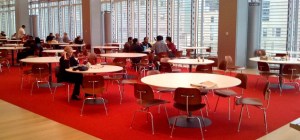 Times metro-staffers were sent a sorta friendly-not friendly reminder this week that they work at a newspaper, and as such, shouldn't be spending too much money on lunch. Apparently, lunches with sources lately "have gotten stuck on posh." So there are new spending restrictions and a suggestion of also eating in their "zippy new cafeteria!"
Other problems: some metro staffers appear to be guilty of filing expenses for things like water and Cheez-its while they're still in the city (that reminds us of Jayson Blair!) Also some of them are filing expenses without receipts! Also, they should take the subway.
The memo:
Dear Colleagues,
Here's a friendly reminder to keep spending in line. This year and for the foreseeable future we should try especially hard.
For some reason, although we have a glorious range of local restaurants to choose from, lunch and dinner expenses have gotten stuck on posh. Lunches should run about $25 a person, no more than
$30; dinner should not exceed $40 a person. Our zippy new cafeteria is great for coffee, breakfast or other meals.
And hold on to those receipts as if your reimbursement depends on them because it does indeed. Any expense over $25 requires a receipt (no bottom-of-the-check tabs, please). Yes, expense your snacks and water if you are traveling. But if you are not traveling, do not submit for food, snacks or water you would ordinarily buy for yourself.
We have been pushing back on late filings, especially those missing receipts. We have also declined to pay ancient expenses submitted without explanations. Your finances are just another facet of the job and its organization. It can be as simple as stuffing an envelope with receipts and filing weekly. If you wait 30 days to file, you will no doubt run swiftly past the 60-day limit.
Leaning toward taking a cab somewhere? Try taking public transportation whenever possible. How about trips late at night or to unfamiliar neighborhoods? Sure, get a medallion cab or reliable livery service. On deadline? You got it. But in most cases, the subway gets you there and back in a jiffy.
And please don't buy office supplies (pencils and notebooks), newspaper or magazine subscriptions or computer software. We will order it if it is necessary.
Drivers, stand by for a reminder about car facts.
Thank you.
Daryl