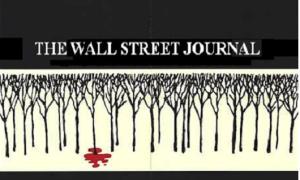 Tomorrow marks the one-year anniversary of the original CNBC report that Rupert Murdoch was interested in buying Dow Jones at $60 per share. And one year later, nothing seems to have calmed down at the Wall Street Journal.
Gawker editor Nick Denton is reporting on the unrest in the week since Marcus Brauchli left the paper. At a meeting on Monday morning, Robert Thomson raked assembled staffers over the coals for being slow on stories. It rubbed just about everyone the wrong way, not least of all because the Journal's M&A team had just published a major scoop—beating Times rival Andrew Ross Sorkin in the process—on the $23 billion merger between Mars and Wrigley.
Standards editor Alix Freedman is getting the evil eye, too, for killing the paper's exclusive on Brauchli's departure, which ended up breaking on Time magazine's Web site instead. Also: Yesterday, Journal staffers were dismayed that G.E. reporter Kathryn Kranhold had picked up and quit, without a new job waiting for her.
Bill Grueskin, the paper's A.M.E., has commissioned an investigative piece on what happened to Marcus Brauchli, but some "ungenerous colleagues suspect his position is vulnerable, and Grueskin is merely casting himself as a defender of the Journal's integrity, and a martyr."
We'll stay on top of it.