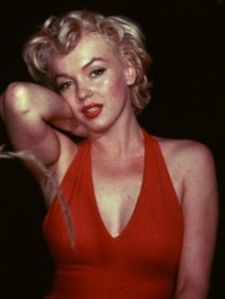 Marilyn was a good girl!
Just several days after news broke that Marilyn Monroe made her own sex tape debut (a la Paris Hilton) in the 50's that was recently sold to a local "businessman," Defamer has published an unusually long piece penned by several Marilyn experts to debunk the legitamacy of the tape.
According to these experts, Marilyn didn't participate in pornography, unlike her look-alike Arline Hunter, who did and often got mistaken for the actress. The experts poke holes in the story of Keya Morgan, the memorabilia collector who claims to have brokered the 1.5 million sale. Like why would the F.B.I. allow a copy of a classified videotape—such as Mr. Morgan claimed it is—to be sold and distributed? And why would this blow job be investigated by the Feds, at a time when neither Monroe nor her unidentified partner had yet achieved any great fame?
The authors also point out that Mr. Morgan, who's claimed to date Renee Zellweger and Mariah Carey in the past, is currently working on a documentary about Marilyn. Is this all just publicity for himself and his topic?
Will the Post follow up?