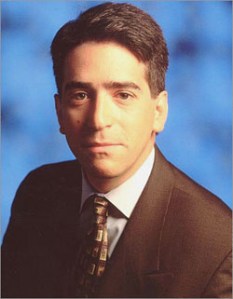 "This is not your father's Watergate," said James Rosen.
Mr. Rosen, an on-air D.C.-based correspondent for Fox News was speaking to NYTV on Monday afternoon. Next month, Doubleday will publish Mr. Rosen's first book—a revisionist history of Richard Nixon's downfall, called The Strong Man: John Mitchell and the Secrets of Watergate.
As NYTV's overcrowded bookshelf can attest, TV newsmen are constantly cranking out books that are heavy on the self-promotion and light on, um, research. Mr. Rosen's book promises to be neither. It will weigh in at a hefty 600 or so pages, contain 65 pages of footnotes, and will include insight culled from some 250 original interviews. There was no ghostwriter. And in a clear affront to the requirements of the genre, Mr. Rosen's face doesn't even appear on the cover.
Mr. Rosen said Strong Man will be the first major biography of John Mitchell, the late U.S. attorney general, who played a pivotal role in the "rise, reign and ruin" of Richard Nixon. In the aftermath of the Watergate scandal, Mr. Mitchell was convicted on a number of charges stemming from his role in the botched break-in and surveillance operation. The nation's top law enforcement official eventually spent 19 months in prison.
"He never went on the lecture circuit," said Mr. Rosen. "He never went on the Mike Douglas show. He never testified about Nixon to get a more lenient sentence. He never found God."
And he never wrote an autobiography. At one point, Mr. Mitchell signed a contract with Simon & Schuster to write a memoir. But according to Mr. Rosen, Mr. Mitchell eventually balked at writing about Watergate and passed away in 1988, leaving the biography unwritten and leaving many details of his life—from the false notion that he commanded John F. Kennedy during World War II to the bogus suggestion that he played hockey for the New York Rangers—shrouded in mystery and misconception.
Mr. Rosen said that he will address the whole of Mr. Mitchell's life but is most interested in clearing up his subject's actual role in Watergate. "John Mitchell denied to the day he died that he ordered the Watergate break-in," said Mr. Rosen. "It's going to be a controversial book because I will come to a different conclusion on who ordered the break-in, why, what it's purpose was and who was the real mastermind of the coverup."
Spoiler alert: It wasn't Mr. Mitchell. "Oscar Wilde said that our lone duty to history is continually to rewrite it," said Mr. Rosen.
As it turned out, however, rewriting history took a touch longer than expected. Mr. Rosen said he has been "slaving away" on the book for the past 17 years. His obsession with the subject dates back even longer.
Growing up on Staten Island in the '70s, Mr. Rosen apparently internalized some of his parent's nostalgia for the 1960s. "I have been a lifelong Nixon and Watergate junkie since a very young age—although I should hasten to add I did play Little League," said Mr. Rosen.
To this day, at his home in Washington, D.C., he collects rare recordings of … the Beatles. "I basically live in the past full time," he deadpanned. "It's amazing I make my way to work every day."
In the late '80s, as an undergraduate at John Hopkins University, Mr. Rosen studied political science. During the summer breaks, he worked at the Nixon Presidential Materials Project, the branch of the National Archives that controls the Nixon papers and tapes. After graduation, Mr. Rosen received a grant from the late William F. Buckley to begin working on the biography.
Eventually, Mr. Rosen matriculated to journalism school at Northwestern. In his spare time, he continued collecting Watergate material. He graduated and began working in television, including a stint as a producer for NY1. He kept working on the book. Later Mr. Rosen took a job at CBS News working as a researcher for Dan Rather. Research on the book continued. Mr. Rosen joined Fox News, became an on-air talent, traveling the world and scoring exclusives interviews with the likes of William H. Rehnquist and Sandra Day O'Connor. In between assignments, he kept plodding away at the manuscript.
In 2002, some 11 years into the thicket, he signed a book contract. His first draft weighed in at 500,000 words—a number he eventually sheered in half. "I've watched the subject of Watergate go from living history, something that happened just yesterday and about which people are concerned still, to a musty-dusty Franco-Prussian War ancient history," said Mr. Rosen.