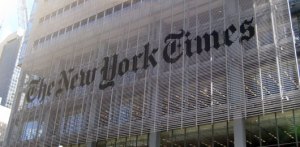 The Post's Keith Kelly hears that 70 Times staffers are going to take buyouts, which means that about 30 are on the chopping block and it'll be Joe Sexton's Metro team that'll take the brunt of the hit.
There's no good news out of that, but it will thin the crowd for what is about to become a more crowded cafeteria in the Times Building. The law firm Goodwin Procter is moving into the Times building next week, and according to a memo, will start sharing the turkey line with Times employees.
The memo:
As you may be aware, our tenant, the national law firm Goodwin Procter, is moving in on April 28th. Goodwin will occupy floors 23 thru 27 within our space and floors 29 and 30 in the Forest City Ratner (FCRC) space. They will bring approximately 500 employees to the building.
Goodwin's employees and their visitors will have access to the cafeteria and the 15th floor conference center. As a result we will be putting back into service a passenger elevator car that had been used for our construction related needs for the last year.
We look forward to welcoming Goodwin Procter.
Best Regards,
Building Operations