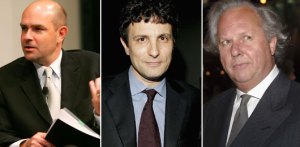 In the next five years in Graydon Carter's world, you'll walk onto a plane, or a subway, or a soon-to-be-invented mode of transport, and you'll tuck a little electronic book under your arm. Inside that little book, which will be very expensive at first but soon will cost $150, there'll be a series of mylar "pages," and there will be small buttons off to the side, and once you hit one of them, whoooosh, words and photos from Vanity Fair will suddenly appear.
"You'll subscribe to five magazines and six newspapers," Mr. Carter said. "That is what I see as the future. … That I know is coming."
"Ultimately, there will be some sort of device!" said Peter Meirs, the vice president of production technology at Time Inc.
"In a decade time frame?" asked Chris Anderson, editor of Wired. "No. Technology adoption happens slowly. This is the editor of Wired telling you no. Obviously, newspapers are going to be changing dramatically over the next few years, but magazines are not newspapers. And I think magazines 10 years from now are going to look something like they do now."
Interviews with editors of magazines like Wired, Rolling Stone, The New Yorker, Us Weekly and several others elicited more of the same:Magazines are not, for the most part, worried about the Internet.
Most magazine editors seem to have emerged from 10 years of mostly noncommittal fiddling around with the Web confident that the magazine of the future will be largely the magazine of the present. That is, when they are willing to look past the next print deadline to contemplate the magazine of the future at all.
"Sorry, not dodging you," wrote Janice Min, editor of Us Weekly. "I just think I have nothing to say because I don't really know the answer!"
What if you put on your thinking hat?
"I cannot answer that without putting on my silly hat!" said Kim France, the editor of Lucky. "It's just impossible to imagine."
"I THINK IN the late 90's, when those first e-books came out, there was an assumption everything would go online," said David Granger, the editor of Esquire. "But that's what it's like with every new technology—anytime a new medium comes out, it's gonna kill all previous mediums and it never does. We're in a more realistic view of the future of magazines."
For Hearst, that means all sorts of new ways to think about the print magazine. To Mr. Granger, that means using some more expensive paper, perhaps. A cover that folds out into a piece of topical origami? Maybe!
"Magazines have to become more magaziney rather than less magaziney," said Mr. Granger. "There are things you can do with your cover where the paper will actually fold into different shapes—this cool experience that will let you do novel editorial things, but it's all very expensive."
To prove its interest, on March 11 Hearst held its first ever "print innovation expo" at its new skyscraper on Eighth Avenue. The printers and manufacturers there showed editors and publishers all sorts of new magazine covers, including "lenticular covers (holographic treatment that allows two images to interchange), gatefolds, pull-out sections, metallic printing and more," e-mailed Nathan Christopher, a spokesman for Hearst.
The point, then, is to capitalize the physical experience of reading magazines. If it's all about textual and textural experience, then the more dear that experience becomes, the more of a luxury object it becomes.
"The correspondence between physical luxury as a subject and physical luxury as a thing," Kurt Andersen, the former editor of New York, thought out loud. "As paper magazines become rarer, it might seem like they become a physical luxury and thereby gain. The affinity between thing and subject might be greater in 10 years."
It's the argument magazine editors have been making for ages—even as their magazines themselves become more luxurious objects, chronicle more luxurious lives.
The question is, when did we start thinking of magazines as luxuries? And is it there that magazines will have to look to scratch out their survival—among photo shoots of country estates and fancy cars and couture clothing?
"The strength of our magazine is that it's not disposable and clickable," said Sally Singer, the fashion and features director at Vogue. "It's a fundamentally different experience from reading it online."
"We tell long, narrative stories with fantastic pictures," said Mr. Carter. "You can't replace that on the computer screen."