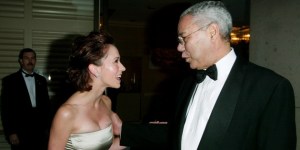 Tomorrow night marks the annual White House Correspondents' Dinner in Washington, D.C. Members of the press corps (including some Media Mob contributors who are already on their way—note low posting rate today!) will have a chance to clink glasses with the president and his cabinet and remind themselves that despite five years of war, an economy some are already calling a Depression, and a painful slog of an election season, it's all in good fun. L'chaim! To us!

This year's event will be emceed by CBS Late Late Show host Craig Ferguson, whom the W.H.C.A.'s president (and ABC News correspondent), Ann Compton, is really excited about: "Craig Ferguson is a fresh take on late night TV. As a new citizen, a first-time uncommitted voter and someone who has looked at American politics from the outside, I am looking forward to his unique take on our system."
While we wait to hear back about all that from Felix Gillette and John Koblin, we thought we'd offer some highlights from past events.
1975: Gerald Ford mocked his image as a stumblebum with a bit of physical comedy. As recounted by The Seattle Times' Bruce Fessier in 2006:
When emcee Bob Hope introduced him, President Ford got up from the table, "accidentally" caught the tablecloth in his trousers and dumped silverware in Chase's lap.
As he approached the podium, he pretended to trip, prompting the pages of the speech he was carrying to fly into the audience. When he got to the microphone and the laughter began to diminish, President Ford reached into his coat pocket, pulled out the real script and said, "Good evening. I'm Gerald Ford and you're not."
1987: Michael Kelly, then of The Baltimore Sun, brought Iran-Contra scandal queen Fawn Hall to the event. (The next year, he brought Gary Hart second mate Donna Rice.) According to 2004 obituary for Mr. Kelly by Robert Vare in The Atlantic, Kelly said, "The best part was seeing the stricken faces of the wheezy old denizens of the press corps."
1988: Ronald Reagan asked Yakov Smirnoff to be his interpreter with the Soviets because it would be "a little fun."
1996: Don Imus emceed the event, joking about Bill Clinton's extramarital affairs. According to The New York Times' Lawrie Mifflin, "The remarks were deemed so insulting that the association sent a letter of apology to the Clintons yesterday, and Michael D. McCurry, the President's press secretary, asked C-Span, the cable network that routinely rebroadcasts Washington events, to refrain from retransmitting this one." (At the time, Al Franken pledged to call his next book Don Imus is a Big Putz.)
2000: Bill Clinton starred in a self-effacing short about being a lame duck called Bill Clinton: Final Days. It featured him doing laundry and washing his presidential limo, and co-starred Tim Russert, Helen Thomas, Al Gore and Hillary Clinton, who dashed off stating, "I wish I could be here more, but I really think Bill has everything under control." President Clinton is shown holding her bag lunch.
2002: George W. Bush said that emcee Drew Carey's show, Whose Line is It Anyway, "is totally improvised" and according to the Associated Press quipped, "Drew? Got any interest in the Middle East?" (Ozzy Osbourne attends that year as well.)
2004: George W. Bush joked about getting the cast of Queer Eye for the Straight Guy to give John Ashcroft a makover and presented a slideshow in which he mocked his won inability to find WMDs in Iraq, stating, "Those weapons of mass destruction have got to be somewhere." (That same day, March 24, 2004, Staff Sgt. Wentz Jerome Henry Shanaberger III was killed by small arms and an improvised bomb in Baquba, Iraq.)
2006: Stephen Colbert savaged the president, noting "reality has a well-known liberal bias." Mr. Colbert told The Observer's Chris Lehmann, "My character loves the President."
2007: American Idol castoff Sanjaya Malakar attended the event. According to The Washington Post's Reliable Sources, Eliot Spitzer asked for his autograph. (That same year, Laurie David and Sheryl Crow got in a spat with Karl Rove.)