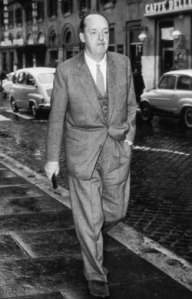 Vladimir Nabokov's Laura, the unfinished novel he was writing at the time of his death, is being shopped to publishers and will probably have a home within a few weeks, according to the agent who oversees his estate alongside his 73-year-old son, Dmitri. Dmitri Nabokov—henceforth Mr. Nabokov—has rather famously spent the last decade and a half trying to figure out what to do with The Original of Laura and how to reconcile its obvious scholarly importance with his father's explicit instructions to destroy the 138 index cards– about 150 words on each, according to Nabokov experts– upon which the manuscript is written.
The agent Mr. Nabokov has been working with would not say which houses have expressed interest in The Original of Laura, though you can be sure that Knopf, which publishes a large chunk of the Nabokov backlist, is getting a look. Several publishers have already made blind offers.
Other previously unpublished Nabokov materials that will be published in the near future, according to Nabokov scholar, friend and biographer Brian Boyd: a collection of Russian verse he translated into English, out from Houghton Mifflin-Harcourt next fall; a collection of letters he wrote to his wife "which are marvelously lyrical and full of acute observation"; a couple of his plays; a collection of interview transcripts and book reviews he wrote early in his career for New York papers like The Sun and magazines like The New Republic. The poetry collection will be the third and final book in a three-book deal the Nabokov estate signed with Harcourt, which means all that other new stuff will be up for grabs.