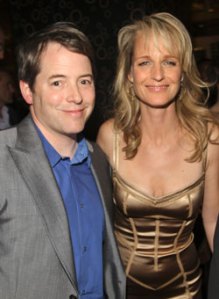 At the premiere of Helen Hunt's directorial debut, Then She Found Me, the actor Matthew Broderick smiled recalling the first time he worked on a film with Ms. Hunt: 1987's Project X, about the military testing radioactivity on chimpanzees. It was "just chimps, just lots and lots of chimps," Mr. Broderick said on the red carpet at the AMC Lincoln Square on Monday, April 21.
"Let me guess which movie you're talking about!" said Mr. Broderick's wife, Sarah Jessica Parker (Ms. Hunt's co-star in 1985's Girls Just Want to Have Fun), with a laugh. She was dressed in red heels, silver necklace and a blue dress with a white flower print.
Ms. Hunt, 44, resplendent in a gold frock, has been working on adapting Elinor Lipman's best-selling novel to the screen since she won an Oscar for 1997's As Good as It Gets. "I'm really proud and kind of amazed," she said. She also co-wrote the script and stars as April Epner, a dowdy 39-year-old teacher from Brooklyn.
The lovable Brit Colin Firth plays Ms. Hunt's love interest with an edge most fans won't be used to; in one scene, he yells to her, "Fuck them and fuck you!" Is there anything different about working with a female director, the Transom wondered. "It depends if you have a rather macho chauvinistic crew or not, and this one we did not," said Mr. Firth, in a black suit without a tie, and a scruffy beard. "They could have not been more devoted to Helen."
The after-party at Nobu 57 was hosted by the Cinema Society and Mulberry, which makes gigantic, expensive handbags.