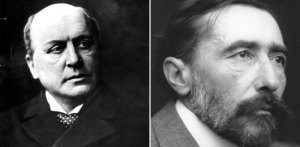 DICTATION: A QUARTET
By Cynthia Ozick
Houghton Mifflin, 179 pages, $24
We can't go on. We must go on. And Cynthia Ozick does go on, and goes on wonderfully. Eighty this month, it seems she gathers energy. Maybe it's the recent death of Saul Bellow, il miglior fabbro, that makes the value of her new book, Dictation, stand out so sharply; or maybe it's the stingy flavor of Philip Roth's recent writing, the sense he's giving away what's in the closet before the tax man can get it—but it's now clear that the self-deprecating muse of New Rochelle, turtle to Roth's hare, may just surpass him.
How to begin? What to praise in this delightful book? Dictation consists of four novellas about the perils of egoism and the power of the artistic personality to remake reality.
"Actors" takes on one of Ms. Ozick's favorite themes: the tension between the Jews who came to America and truly left Europe behind and those who couldn't. It tells the story of Matt Sorely, né Mose Sadacca, a middle-tier New York character actor who is given one last big chance—Lear! It's past due and his due: "What's realistic is if they give me access to my range," he tells his wife. The version he will star in is an adaptation written by the daughter of a Yiddish actor, who takes a dim view of the process. "Actor, actor call yourself what you want. Only watch what you say in front of Eli Miller," the Yiddish theater's immortal Polonius thunders at Sorley from his nursing home room. Sorely ignores him and meets his match as Miller pays an unexpected visit to the Upper Broadway heath.
"At Fumicaro" is the story of an American Catholic intellectual, Frank Castle, in Fascist Italy for a conference, "The Church and How It Is Known." Castle, a shallow ascetic, has a high opinion of himself. His mind, he thinks, is "a secret cave, immaculately swept and spare." His body, if not pure, is at the least purer than most. But ecclesiastical ruminations prove no match for a 16-year-old chambermaid, for her naked calves, "the wonder of their roundness and heaviness."
"What Happened to the Baby" tells the story of a misguided idealist, a self-taught intellectual living in the Bronx, who constructs a universal language meant to rival Esperanto. While the man dreams of perfect communication through his League for a Unified Humanity, he himself, it turns out, was less than open about his own past. "Lies, illusion, deception," the narrator, the man's niece, concludes, "was that it truly, the universal language we all speak?"
Cynthia Ozick is a very careful writer. One always feels that powerful mind applied to the conundrum of how to get a sentence to say what she means. One imagines her going over that last one, debating whether the double redundancy of the final three words elucidates the narrator, a tepid American-born young woman sucked into the obsolete world of her uncle and the passions that swirled around the Jews of his day.
THE TITLE STORY, "Dictation," imagines a plot on the part of the typists of Henry James and Joseph Conrad to take sentences from their employers' work and sneak them into their counterparts. Here, too, Ms. Ozick's excellent ear is at work
Defending herself against the charge that her first novel, Trust (1966), was excessively Jamesian, she once told a journalist: "Well, I've never written 'he hung fire,' or 'as it were,' or 'so to speak'!" "Dictation" gives her that chance. Weighing the benefits of writing on a typewriter, her fictitious James asks her fictitious Conrad, "May I presume, Mr. Conrad, that you, in the vigor of youth, as it were, are not of a mind to succumb to a mechanical intercessor, as I, heavier with years, perforce have succumbed?" Ms. Ozick even gets to write "in fine."
What fun, and what fun to read—there's a nice layer of postmodern intellectual mischief as well, in that the novella of literary intrigue is a form Ms. Ozick loves and that James excelled in.
"Dictation" can be read as a feminist parable, in which two Edwardian women wreak small havoc with the hierarchy that has denied them a larger life—the secretaries' revenge tale. It's also a winning comedy of manners. Scheming, mischievous Miss Theodora Bosanquet—"a sapphist, I wager," one observer remarks—pursues provincial, devoted Miss Lilian Hallowes. We follow the chase from an ice-skating rink to an outing in the New Forest to a performance of Macbeth (starring the great Mrs. Patrick Campbell) to a seedy nightclub. "Theodora's strong saving embrace was firm at her waist," Lilian thinks, "and the warmth of her breath was feathery under her ear." But if there's impropriety—a furtive hand under the rustling skirts—in good period fashion it's left for us to imagine. "There were parts of London Theodora knew, shadowy corners Lilian had never ventured into, and incense-stung cellars where motley strangers squabbled in raucous remote accents, like hothead revelers at an incomprehensible carnival." (Nice echoes of Conrad there.)