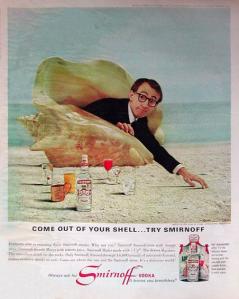 By now you've probably heard that Woody Allen is suing American Apparel for damages in excess of $10 million for using his likeness in a billboard. Reuters quotes the lawsuit as stating, "Allen does not engage in the commercial endorsement of products or services in the United States."
That wasn't always the case.
On his 1979 album, Standup Comic, Allen does a routine called "The Vodka Ad," which goes, in part, "I was caught here in an ethical crisis. Should I advertise a product that I don't actually use? It's a problem 'cause I'm not a drinker, my body won't tolerate…eh…spirits."
Tolerance or no, Allen appeared in three ads for Smirnoff Vodka, but as Scott Marks' blog, Emulsion Compulsion notes, the director "hasn't been a pitchman for products or services in the United States in decades." Hey, Woody, here's mud in your eye:
Come Out Of Your Shell… Try Smirnoff
This Is The Drink That Is… The Smirnoff Mule