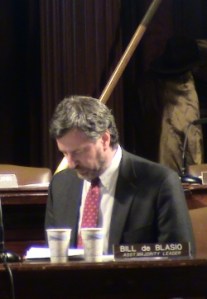 Last night, City Councilman and candidate for Brooklyn borough president, Bill de Blasio, called for a moratorium on demolition at the Atlantic Yards footprint until developer Bruce Ratner outlines "what will be built when and confirms affordability," Brownstoner and Gowanus Lounge reported this morning.
Mr. de Blasio told a meeting of Brooklyn bloggers that he was "livid" about Mr. Ratner's recent admission in The New York Times that the Miss Brooklyn office tower and residential buildings Mr. Ratner planned to build at Atlantic Yards were stalled due to trouble finding financing, and said he cannot support an "arena-only plan."
Since Mr. Ratner put "the entire community benefits agreement up for question" in his interview with The Times, the Councilman called for the state to review an updated proposal for the site again.
"I held out hope for the project because of the amount of affordable housing it would create, as well as the number of jobs it would bring," Brownstoner quoted Mr. de Blasio as saying. "But I have been constantly disappointed in the lack of community involvement… I've never seen anything that's been mismanaged so fundamentally in terms of community involvement."