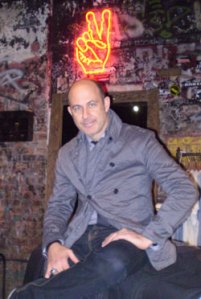 John Varvatos may be bringing live music back to the old CBGB location this week. But don't get too used to it.
"I'm not going to be a club promoter," said the 54-year-old fashion designer, who is hosting a charity concert on Thursday to celebrate the grand opening of his new eponymous boutique in the former rock-club space.
But a promoter is just what some of his critics seemed to want last week, when a small band of placard-wielding demonstrators had camped out on the sidewalk to commemorate the transformation of the dingy club into a high-end shop stocked with vintage leather jackets for around $1,000 and up.
"ONE 'SMALL' LOSS OF A MUSIC SPACE, ONE GIANT LEAP FOR PANTS," read one sign, carried around by activist Rebecca Moore, who took a swipe at Mr. Varvatos for catering to "a wealthy, male-dominated major-label mainstream rock world that has no claim on the CB's legacy whatsoever."
Ms. Moore was notably arrested during a similar protest outside the defunct Lower East Side music hall Tonic last spring.
"It would be great to see Mr. Varvatos not just stepping in to save a building he deems a shrine, and using that environment to help sell his clothing—but rather actively petitioning the city to save and recognize local cultural arts and community spaces that have a rightful place in these neighborhoods!" Ms. Moore said in a statement.
If Ms. Moore had hoped to awaken the designer's inner radical, her effort fell short.
"I guess that was protesting the rents in the neighborhood," Mr. Varvatos said of the demonstration. "We don't set the rent here."
"We didn't kick CBGB out of here. We didn't force them to go. It was empty for a year. This could've been a bank, a deli, a Starbucks—it could've been a lot of things.
"I can't save the music venues in this city," he added, "but I can save a part of history.
"I'd be happy if CBGB were still here," Mr. Varvatos said, seeking to clarify his intentions during an interview inside the new shop on Monday. "But not the CBGB that it was in the last five years—the CBGB of the past."
A self-professed "music junkie," the Michigan native estimated attending more than 100 shows at the defunct club during its heyday.
"I always joke that coming to CBGB was a religious experience for me," said the designer, who installed stained glass behind the cash register to emphasize the site's inherent holiness.
"The Ramones were the first band that I ever saw here," he said. "I saw the Damned. Psychedelic Furs played here for five nights in the '80s. There's all kinds of different people that I saw here, in different incarnations, too, bands that broke up and got back together and players from one band playing with another band. There was always something exciting happening here."
MR. VARVATOS WASN'T lusting after the location when longtime proprietor Hilly Kristal shuttered the place in 2006, after a lengthy dispute with the landlord over rent hikes.
The club was reportedly paying about $19,000 per month in rent at the time of its shuttering, with the rate expected to more than double.
Mr. Varvatos declined to say exactly how much he is paying for the former rock club, though he noted that asking rents in the neighborhood now tend to hover between $125 and $175 per square foot annually. (Given the size of the space, roughly 3,300 square feet, that would put the new boutique somewhere in the monthly range of $34,000 to $48,000.)
"I wasn't even looking in this neighborhood," Mr. Varvatos said of the Bowery, noting the close proximity of his existing Soho shop. "It never really dawned on me until I kind of walked in one day.
"I just wanted to see, well, what did it feel like today in the space? Not thinking about retail, not thinking about anything, really. I walked in and it was pretty gutted. Other than the walls, they had taken everything out; and there's like one light bulb in the place at the time.
"Something at that moment just struck me and I felt like there's something really special here. There is something that speaks to you from these walls. Everything from the aggression that was here, to the excitement that was here, to the passion that was here. You see it. You could smell a little of it at that time, too."
It smelled awful.
"There were leaks in the ceiling, so it was very musty," he said. "There was a sewer pipe that broke in the basement, so it was all raw sewage down there.
"It's not my job to try to save anything. It's not in my best interests, necessarily, to take financial risks to do these kinds of things. But I also thought, 'This could be a good thing.'"
He put it new floors and even chandeliers but kept the club's graffiti- and sticker-cluttered walls. "This still feels like it belongs on the Bowery," he said.
As opposed to, say, Soho, the neighborhood of his existing digs.
"This is definitely a younger, funkier, rock 'n' roll store," Mr. Varvatos said. "The other one is much more of a luxury store. This store has everything from vintage vinyl, vintage audio equipment, we carry more of our Converse collection. We don't carry suits in here. The other store is a little bit more formal, a little bit more elegant in terms of the product.
"There's just a lot more here that's made for this neighborhood."
Mr. Varvatos insisted he is "thrilled" if patrons simply hang out, bask in the nostalgia and not buy a thing; those who do will be supporting a good cause. "We're basically taking our profits and putting it into an artist development fund, so we can do shows at least once a month in this store.
"There's something pretty cool about that," he added. "There's not a lot of places in the city like that."