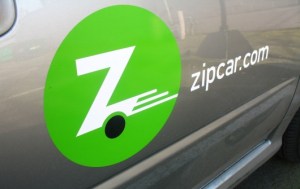 Zipcar, the car-sharing service that allows customers to rent wheels by the hour with outlandish names like Melgaard (a Mazda 3) and Scrod (a Volvo S40), is expanding, parking problems notwithstanding.
Zipcar, which recently merged with Flexcar and says it's the "world's largest car sharing and car club provider," signed a five-year for 7,500 square feet at 1265 Broadway, also home to Oakwood Worldwide.
That's a 500 percent jump in size from its previous 1,500-square-foot space at 120 West 24th Street.
Congrats, Zipcar! Now, if you would only lower your prices, so we could afford to use you again.
The release is below.
Zipcar Upshifts into 7,500 Square Ft. at Herald Square
In Deal Arranged by CresaPartners
NEW YORK CITY, April 29 – In a 500 percent expansion of its space, Zipcar, Inc., the world's largest car sharing and car club provider, has leased 7,500 square feet at 1265 Broadway for a five-year term, according to CresaPartners, which represented the tenant.
The second-floor space has a private entrance, plus prominent exterior signage. In addition, Zipcar can install fluorescent lighting from the second floor interior to project over Sixth Avenue.
The company, which is relocating from a 1,500-square-foot space at 127 West 24th Street, selected the new location on Broadway because of its notable location.
"Zipcar's former office was on a side street, but the new office is situated in the heart of the Herald Square/Penn Station neighborhood, where there is significant pedestrian traffic," says Michael Smith, senior vice president of CresaPartners. "Being located in a key retail location, near a major transportation hub, will certainly help to increase ZipCar's visibility."
Mr. Smith also notes that Zipcar may benefit from the fact that the primary tenant at 1265 Broadway, Oakwood Worldwide, provides extended stay corporate housing.
Mr. Smith and Chris Crooks, principal of CresaPartners, represented the tenant. B.H.T. Corp., the landlord, represented itself. Mr. Smith and Chris Crooks, principal of CresaPartners, represented the tenant.
CresaPartners is an international corporate real estate advisory firm that exclusively represents tenants and specializes in the delivery of fully integrated real estate services, including: Transaction Management, Project Management, Relocation Planning and Management, Strategic Planning, Site Selection and Incentives, Subleases and Dispositions, Lease Administration, Capital Markets, and Facilities Consulting. With more than 45 North American offices, CresaPartners is one of the largest pure tenant representation firms in the U.S. and Canada. Through a partnership with Atisreal international real estate group, CresaPartners is a member of one of the leading real estate organizations in the world, covering 35 countries. For more information, visit www.cresapartners.com.