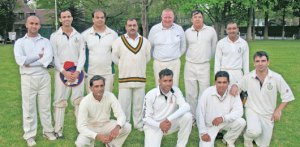 Netherland
By Joseph O'Neill
Pantheon, 256 pages, $23.95
The title of Netherland, the third novel by Irish-born Joseph O'Neill, refers not to "Neverland" or a place at the end of mist and mystery; it embraces rather the Dutch origins of New York City. The events of 9/11 plant dismay in a modern marriage, not eased by a move into the Chelsea Hotel. Rachel is inclined to go back to London with their son, while Hans, a banker, stays in the city and tries to work things out. The novel never sounds Irish, despite the yearning and unwinding strains in Mr. O'Neill's writing. But does it really sound Dutch (the author was raised in Holland)? If not, where is the steady pull of the language coming from? This is as much of a puzzle as the city that Hans begins to discover, thanks in part to his Trinidadian friend Chuck Ramkissoon, whose great cause in life is to restore cricket to the New York area.
Far too little happens. Mr. O'Neill has no urgency or facility at developing character or plot. But there are many back-of-the-hand ways in which we feel a real novelist's spin at work. Above all, this involves an eye and an ear for the local groupings, habits and foods of the New York area. In the gentlest possible way, Netherland appreciates a city of so many preoccupations—cricket being no stranger than the passion for security—in an urban structure where unfamiliar cultures are on a conversational footing.
It's hard to make a great case for Netherland, though this is being attempted by elements of the literary establishment. It really doesn't want to be found in possession of the kind of lofty ambitions that presage a great novel. But Joseph O'Neill writes quite beautifully—whether describing the breeze of nature on cricket, or companionship warming lonely immigrants.
And that is the true stuff of our urban modernism. Netherland may be what comes in the years before a great novel—a tender mapping out of territory and its alien occupants, a way of seeing that New York is far from just an American city.
The undeclared irony within the book is that in sniffing out a thing called cricket that may ease an untidy world, Mr. O'Neill has to ignore what he knows to be true—that cricket itself is a dying pastime, nearly eclipsed by the crowd-catering vulgarities learned from soccer. So there's an elusive Arthurian possibility hovering over the best evocations of that charmed and unlikely game: "You do not know whether a twenty-two-yard strip of turf, often cut so closely as to appear grassless, will deliver a quick or slow or high or low bounce, whether a spinning ball will deviate upon bouncing and if so to what degree and with what speed. You do not know if it will be a featherbed, or a dog, or a slow- and low-bouncing pitch dispiriting equally to batsman and bowler. Even after you've begun to play on it, you do not know what it holds in store. The nature of earth, like the nature of air, is subject to change." All of a sudden it seems like a game at which Chekhov might contest Oscar Wilde.
David Thomson's "Have You Seen …?": A Personal Introduction to 1,000 Films will be published by Knopf in October. He can be reached at books@observer.com.