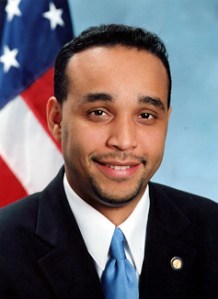 One of State Senator John Sabini's longtime Hispanic supporters, Assemblyman Jose Peralta, is signaling that he may be ready to support Sabini's likely challenger, City Councilman Hiram Monserrate.
In an interview earlier today, he told me he wasn't quite ready to make a formal endorsement, but that for Monserrate, "the time is now."
If Peralta goes through with an endorsement, it would be a serious blow to Sabini that may also hint at who local leaders in Jackson Heights will endorse when the Queens County Democratic Organization reconvenes on Friday.
Peralta supported Sabini for reelection in 2002, 2004 and 2006 (the last one, it should be noted, was against Monserrate).
Peralta's apparent change of heart is because of two larger issues: demographics (the district is rapidly becoming more Latino) and the Democratic takeover of the State Senate.
"And if that were to happen," Peralta said, "you need someone who sometimes takes on the executive. And unlike the senator, Councilman Monserrate has a track record of taking on the executive." As evidence, he cited Monserrate's opposition to Michael Bloomberg on parking and development.
The historical angle also appeals to Peralta, who said the county organization has had a history of "empowering" emerging communities.
"There were many firsts in the room today at Queens county," he told me, referring to the Democrats' earlier meeting. "Queens County had the opportunity to empower the gay community by electing [the first openly gay district leader] Danny Dromm. There was the borough president of Queens, Helen Marshall, who was there today. Queens County had the opportunity to empower [the African-American community by electing an] African-American borough president. And now it's an opportunity for Queens County to empower first Latino state senator in the borough."