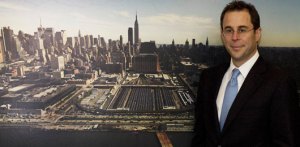 Location: On the rail yards, how did News Corp. tell you that they were no longer interested in being an anchor tenant?
Mr. Blau: There were several rounds, and they [the M.T.A.] called us in for what they said was the final round. We had hoped, or thought, that we would be designated at this meeting, which was to happen the next day; and literally 12 hours before the meeting, we got a call from News Corp. that said while they were very, very interested in the site, they couldn't agree to commit at that moment.
And at that point you withdrew your bid for the eastern yard?
With that very, very short-minute time frame of notice, where they said that they couldn't go forward, we weren't sure how our investors would react to having that much commercial space on the east. We were less concerned about the west because of the residential—we could do that right away. So we asked the M.T.A. if we could just go forward on the west.
Why do you think Tishman Speyer's bid floundered?
I just don't know.
Did they see risk that you don't?
I think that their plan was a lot more heavy on commercial on the west side than ours. And I think that they might have felt that that was a riskier approval process.
How did you get a window for an extra two years [to build on the site] from the M.T.A.?
That was part of our negotiation. The M.T.A. was very clear that the only way they would proceed with us over the weekend was if we stepped into the shoes of the Tishman deal, which is effectively what we did, with that extra flexibility extension.
Do you think the bid would have been better in a better market?
I think the M.T.A. still got a pretty high price. There's still a lot of risk in timing and exposures and platform development and construction.
When do you think you'll start construction on the platform?
We're going to work as fast as we can to get ourselves in a position to do that.
Is that the type of thing that's going to wait until you have an anchor tenant, and then you'll start?
Our first building doesn't have to be that anchor tenant office building. It'd be great, but we could do retail and residential, too. So we may start that platform ahead of an anchor tenant.
Is it going to be a challenge to form an entire new business district over there—you're many blocks from the heart of midtown.
The most important thing for us … is really to create a great space at the center of all this, and create enough critical mass with parks and cultural center and school and retail, and really create enough activity that there's a reason to go over there.
Is it a worry that you just have one subway—the 7 line—going there? You're still a decent ways from Penn Station without a direct connection.
We've been given assurances by the city that the 7 line will be completed, and we think that will provide the appropriate transportation needs.
Would you consider trying to subsidize or encourage some kind of connector to Penn Station?
It would depend on conversations with tenants.
Is the Penn Station area—would that be a competitor district?
There are a lot of things we could do at the yards that are different than the Penn Station buildings, and I think that there'll be appropriate types of space for different types of tenants in each of those locations. We could do tremendous trading floors on the West Side. You may not be able to do that around Penn Station. We can create a large campus for media companies on the West Side, where obviously you can't do that in midtown.
Does Manhattan need that much more Class A office space at one time?
We obviously believe, and have bet accordingly, on the future growth in New York City, and we think that the West Side is really where it will go. And it won't be at one time—it will happen over time.
Why didn't you guys choose to invest in the Penn Station area like your partner in the Moynihan [Station] deal, Vornado, did?
We're in slightly different businesses than Vornado. Vornado is in the business of acquiring assets and holding them. We're really a development company. We very rarely buy completed, stabilized buildings, so we've never really had a development opportunity around Penn Station prior to what we're doing now.