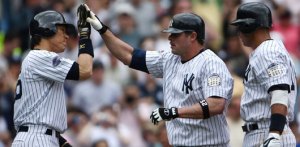 In recent years, the New York Yankees have made a habit of starting slowly, only to confound critics by coming on strong and making the playoffs. The team started 11-19 in 2005 and 21-29 in 2007, only to rally to make the playoffs in both seasons, winning 95 and 94 games, respectively.
The early returns on the 2008 Yankees have been about as disappointing as those previous starts. But there is also reason to believe that the 2008 Yankees, who currently hold a 26-27 record, will be able to pull off a similar finish.
Unlike the 2007 team, no players are performing above established career norms—and the team has received performances at a number of positions well below what can reasonably be expected of them over the last 109 games of the season.
Let's start with the offense. The numbers are way down through 50 games. New York scored 968 runs last season, averaging about 6 per game. This year, that average is at 4.4 runs per game through 50 games, which would, over a full season, lead to just 719 runs.
Those offensive totals included just 30 games from Alex Rodriguez, easily the best hitter on the Yankees. That means that the Yankees were without Rodriguez, now healthy, for 40 percent of their games. How rare is it for Alex Rodriguez to miss 20 games? In his previous seven seasons, Rodriguez had missed a total of 19 games. Having Rodriguez for the vast majority of games, rather than a bit more than half of them, will obviously increase offensive production.
The return of Jorge Posada, last season's second-best hitter for New York, will provide a huge boost as well. Posada played in just 18 of the team's first 50 games. But Posada played in a rehab game Monday, and is expected back shortly. Considering that this was Posada's first trip to the disabled list in his career, it is reasonable to expect Posada to play the lion's share of games the rest of the way.
Not only will New York be adding two elite hitters, they will be taking the place of backups that have hit, collectively, far below average at both catcher and third base. Such a lineup improvement in 22 percent of plate appearances is immense.
A third area of improvement for the Yankees has already begun. Robinson Cano is hitting .302/.344/.453 in May. But the first 50 games includes Cano's .151/.211/.236 April, which constitutes 29 of New York 's first 50 games. It is extremely unlikely that over 60 percent of New York's remaining contests, an in-prime talent like Cano will hit .151. (He has actually hit better than.302 in two of his first three seasons.)
As for the pitching staff, there are areas that are likely to improve, in part because the baseline of the first 50 games is so low. While Darrell Rasner is no star, he is likely to provide a better ERA than Ian Kennedy, who posted a 7.47 mark over his first eight starts. Even Kennedy himself will likely improve upon that when he returns from injury. His 6.5 walks per nine innings so far this season is so much worse than anything he put up at any level that an improvement is almost unavoidable.
Phil Hughes is also expected back in another month, and is unlikely to put up a 9.00 ERA once healthy. After all, last season, in his first extended big league time, Hughes was a league-average pitcher, running a 4.46 ERA and solid peripherals. Even if his ERA jumps a run over last season, he'd still be providing far better pitching for the remainder of 2008 than he did for the first 50 games.
None of this includes the transition, already begun, of Joba Chamberlain to the starting rotation. It means that Joba, who may be New York 's best pitcher right now, will be pitching a larger percentage of the team's innings over the remainder of the season. Unlike the other five players cited, it is impossible to know what the Yankees should be able to count on from Chamberlain. But the upside is as high as any of the other five improvements.
And leaving the Yankees themselves aside, New York 's position in the standings is far better than it was in 2007. At the 50-game mark in 2007, not only was New York 21-29, the team stood 14.5 games behind American League Eastern Division leader Boston , and 8.5 games behind Wild Card leader Detroit. Even in 2005, New York trailed division leader Baltimore by 9 games, and wild card leader Minnesota by 7 games after 30 contests.
By contrast, in 2008, the Yankees are just 6 games behind the division-leading Tampa Bay Rays, and 4.5 games behind the wild card leader, the Boston Red Sox. Over the final 109 games, that is a lot less ground to make up. And unlike last season, the Yankees don't need a magical finish. They just need to revert to form.