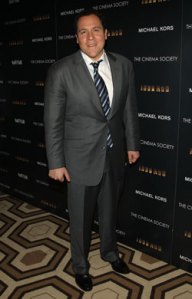 On Thursday, May 8, the Directors Guild of America held its annual Feature Directors dinner in the lobby of the guild's national headquarters at 7920 Sunset Boulevard in West Hollywood. Catered sushi and an open bar, of which many members took full advantage, helped assuage the grim mood that continues to hover over Tinseltown.
A source at the party overheard writer-director Deborah Kaplan, who last helmed 2001's Josie and the Pussycats, telling pals that she wasn't concerned with the looming Screen Actors Guild strike. She penned Made of Honor, the recently released romantic comedy with Patrick Dempsey, and has five other scripts in production.
DGA president Michael Apted gave a speech from behind a podium in the front of the room. "He said that the DGA should be proud that it did its homework and spent $2 million on two independent studies on new media and determined that there wasn't much money in it," recalled the attendee. "The implication was that the Writers Guild had gone too far."
Ron Howard was there, smiling as always. Michael Bay looked bored. But director du jour Jon Favreau was the life of the party.
The year before, Mr. Favreau had been down because his action flick Zathura: A Space Adventure hadn't done well. "This year he was obviously thrilled about the success of Iron Man," said the source. Hanging tight with his pal Peyton Reed, Mr. Favreau told other, clearly envious colleagues that he's almost reached a deal to do a sequel. "He said he wants to cement himself as an A-list director so he can get back to doing more indie stuff like Swingers," recalled the source.
Mr. Favreau also described how a few nights back, he had dinner with Iron Man star Robert Downey Jr. at Mr. Chow's in Beverly Hills to celebrate their movie's domination of the weekend's box office. When the director emerged, he gave his ticket to the valet, who promptly returned with a top-of-the-line, brand-new Mercedes.
"That's not my car," Mr. Favreau said.
"Yes, it is," replied the valet.
"No, it's not. I drive a Cadillac."
"This is your car, Mr. Favreau."
The director and the valet kept at this line of conversation for some time until Mr. Favreau accepted the new ride—a gift, as it turned out, from the overlords over at Paramount.