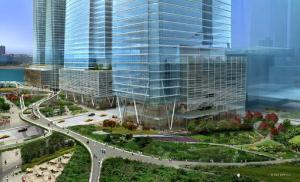 With Tishman Speyer out of the picture at the West Side rail yards, the Metropolitan Transportation Authority is now headed back to the other three bidding teams (Extell Development, the Related Companies, and a joint venture of the Durst Organization and Vornado Realty Trust); that is, if they're still interested.
The apparent frontrunner, given that it was the runner-up to Tishman in the original bidding, would be Durst/Vornado, the only remaining team in late March with an anchor tenant, S.I. Newhouse's Condé Nast. If Condé Nast is no longer on board with a move—The Times has reported that Tishman failed to woo them in recent weeks—that could mean trouble for the Durst/Vornado bid, or certainly the value of it.
Durst/Vornado had a second-round bid of $842 million, which was later raised to nearly $1 billion when it appeared the M.T.A. was going with Tishman Speyer.
As for Related, it dropped its bid for the eastern half of the rail yards when its anchor tenant, News Corp., dropped out, and the status of its interest in the yards is unclear—a Related spokeswoman declined to comment.
A Durst spokesman said the company is interested in resuming talks, and we're still waiting on calls back from Condé Nast and Extell.
In response to the breakdown of talks, Mayor Bloomberg and Council Speaker Christine Quinn issued statements saying they want to move forward with another developer.
That would not be the choice of Assemblyman Richard Brodsky, however, as he announced a bill on Friday that would create an authority to buy the rail yards from the M.T.A. and develop them parcel-by-parcel.
Update 5:30 p.m.
Extell is in for another go at the yards, said a company spokesman.
A Condé Nast spokeswoman said the firm has no comment.