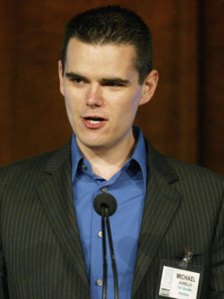 Paging all "Ausholes."
Influential TV blogger, columnist, and Smurfs collector Michael Ausiello (whom NYTV profiled back in November) is leaving his longtime home at TV Guide for a new writing gig at Entertainment Weekly, where he will pen a weekly column and contribute to EW.com.
A few weeks ago, Macrovision Solutions Corporation competed a multibillion dollar takeover of Gemstar-TV Guide. Since then, Macrovision executives have reportedly been trying to sell the magazine while holding onto TVGuide.com—where Mr. Ausiello has established himself in recent years as a major force in the entertainment industry.
According to the press release, Mr. Ausiello will start at EW on July, 2.
From the release:
Michael Ausiello was named columnist at Entertainment Weekly, it was announced today by Rick Tetzeli, Managing Editor, Entertainment Weekly. In this new role, effective as of July 2, Michael will write for EW.com in addition to having a weekly column in the magazine's TV section. "Michael is a first rate journalist. His extraordinary combination of hard work, obsessive intensity and friendly persuasion are a perfect fit for Entertainment Weekly," said Tetzeli. "The EW.com audience has an insatiable appetite for all things television and Michael will certainly further our readers' desire for ongoing coverage of their favorite shows." For the last eight years, Ausiello served as a senior writer at TV Guide magazine and TVGuide.com. He is widely considered one of the most influential reporters in the television and entertainment industry. His track record of breaking hundreds of television and entertainment stories is unparalleled. His two columns, Ask Ausiello and The Ausiello Report are not only among the most trafficked on TVGuide.com but have become must-reads for reporters and columnists who cover the television industry.