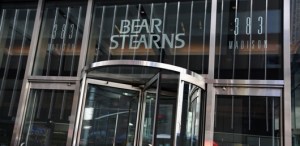 The day after Bear Stearns shareholders approved the firm's sale to JPMorgan Chase, the clubby men's salon frequented by the fallen masters of the universe was buzzing as usual.
Suited, silver-haired men and their early-middle-aged protégés reclined in chairs while getting preened and massaged by young women inside John Allen's on 46th Street and Vanderbilt Avenue, barely a block from the now-former Bear Stearns headquarters at 383 Madison.
Since the "club" opened in 2001, the Bear boys have gathered to enjoy a cigar, scalp massage or nail buff, behind the papered-over glass windows that make the space look as if it were recently vacated. A former Bear employee told me almost all the "guys/monkeys" he worked with went to John Allen's frequently, though he never joined them, partly because he found the prospect of a manicure unappealing.
"The deal was for, call it $300, you could stop by anytime and get your hair cut for six months, but with your haircut you also got a manicure (not kidding)," he wrote in an e-mail. "So they pampered you with really busty women and you could take shots of booze and/or play pool during the day and claim it was work. It is a total Bear Stearns hang out…….. I swear they give manicures every time they cut your hair."
Indeed, several suited corporate types were getting their nails done Friday afternoon. Manager Carlotta Malloy greeted regular walk-in customers by name. Most men got the $65 full-service package that includes a scalp-massaging shampoo, conditioning treatment, hot towel, haircut, manicure, shoe-shine and beverage, requesting their favorite stylist by name. Individual treatments like highlights, hair coloring and relaxing, beard trims, facials and massages were also available. Though Ms. Malloy said the services were also open to women, I felt like an intruder during my brief visit.
John Allen's brochure claims to "offer a return to a simpler time, when a man had a place to call his own. Where a scalp-massaging shampoo and a steaming hot towel eases the pressure of the day."
These days former Bear men are certainly under more pressure.
About 30 percent of John Allen's clients worked at the firm, estimated Ms. Malloy, and most are still coming in, though the mood has changed a bit since the halcyon days.
"Of course, some of them have been stressed out recently because they're working for a company and now their jobs are on the line," she said as the lunchtime rush began.
Though Bear men have yet to forfeit their beauty regimens, other signs of belt-tightening were apparent. "I'm sure Brooks Brothers won't be doing quite the same brisk business during lunchtime," said an employee of the higher-end clothing store as he paid his tab at John Allen's.
One of the shoe shiners at John Allen's said he still has "a lot" of Bear clients, but lately the tips are smaller. He used to get $5 dollars a shine—the service costs $4 individually—and now he gets $2 or $3.
The conversations have also changed, or stopped entirely.
"They're not talking much these days," the seven-year employee said. "They used to talk a lot, about lifestyle stuff, summer plans, the Hamptons, that sort of thing."
Outside the macho, indulgent seclusion of John Allen's, passersby were reveling in a few moments of schadenfreude at the demise of Bear Stearns. A pair of women who work in a midtown office building took turns snapping photos in front of the firms' headquarters at 46th Street and Vanderbilt Avenue "before they take the Bear Stearns name down," they said. A young man was taking photos of the exterior on the corner of 47th and Madison.
As the firm's future grew more uncertain over the past year, the popular post-work watering hole a block from Bear Stearns' offices, Maggie's Place, has seen more men venture in for a pint recently. (A bartender at another favorite Bear Stearns haunt across the street, Connolly's, refused to answer questions. "Nope, I know too many of those guys well.")
Fiona has been serving the same posse of Bear men at Maggie's for a few years. They are in their middle-to-late 30s or early 40s, most of them have young kids, and all are friendly and "nice," she said.
"The last couple months they haven't been doing much, so we've gotten different kinds of [Bear Stearns] people, not our regulars," said Fiona, who tends bar during the day and on Friday nights.
"And they are drinking more now," a male bartender interrupted, as he swooped by to serve a drink. "There has always been a gang of them at the bar on Friday nights, but now they are even coming in the daytime.
"We never used to see that. Guess it's because they've got nothing to do over there."
Traditionally the Bear men tip liberally. At a table of 10, for example, each would throw down one or two $20 bills, even if they only had one beer. Fiona said that has not changed.
"Not lately," the male bartender chimed in again. "Last night, they ran up a $500 tab and only left $5."
"You're kidding," she scolded him. "He's kidding," she assured me.
"I'm fucking serious," he said, declining to give his name if we included this anecdote in the story.
He characterized the mood at Maggie's lately as "apprehensive, since they don't know if they'll have jobs."
Based on snippets of overheard conversations, Fiona said she thinks most men are more troubled by losing the Bear Stearns camaraderie than their jobs. "I don't think they are that sad about Bear," she said. "They all got big [severance packages] and get to take the summer off. They're happy about that.
"They seem most sad about the gang breaking up and losing their friends, leaving Maggie's. I think that's what they're concerned about."