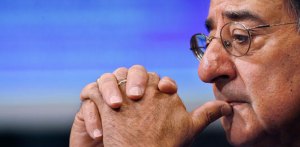 Robert Einhorn is a hot property.
An expert at the Center for Strategic and International studies, he currently chairs Hillary Clinton's advisory group on nonproliferation and arms control, a critical political issue as Iran has emerged as a source of bitter conflict between Barack Obama and John McCain.
The Obama campaign already has him in its sights.
"There is no question that Obama will want the support and best advice that distinguished people like Bob Einhorn have to offer," said a Obama foreign policy adviser who heads up a working group that produces position papers for the candidate. "There is just no question."
For Mr. Obama, the end of a marathon Democratic primary and the departure of Mrs. Clinton gives him entree to a massive pool of foreign policy talent hitherto unavailable to him and his team.
"I think he has at this stage an adequate staff," said Leon Panetta, a former chief of staff to Bill Clinton who supports Mrs. Clinton but has advised Mr. Obama on budgetary issues and Iraq. "Could there maybe be a little more oomph to it? That's probably pretty true for everybody."
But, referring to Mrs. Clinton's stable of experts, Mr. Panetta added, "If Obama is smart, he will try and bring them into the family."
Democratic foreign policy stars like Richard Holbrooke, Madeline Albright and Sandy Berger, who signed on with Mrs. Clinton back when she was the inevitable nominee, will almost certainly make themselves available, and the Obama campaign will also be able go after the less-known but crucial policy specialists among whom Mrs. Clinton had first pick.
With the primary still unsettled, the Obama foreign policy team has refrained until now from openly officially approaching any of her advisers. (Mr. Einhorn said he has not yet been contacted by the Obama campaign and doesn't think it would be appropriate to offer his services as long as the primary season continues.)
Most of the Clinton people, meanwhile, seem to feel that integration is both inevitable and desirable—despite certain well-known rivalries that exist between senior personnel like Mr. Lake and Mr. Holbrooke—and some go so far as to say that it's an outright necessity if Mr. Obama is to win in the fall.
In the grimmest Clintonian assessment of the situation, the Obama team is mostly comprised of leftovers after the better-established foreign policy players signed on with Mrs. Clinton, and that lack of depth in the opposition camp has at times manifested itself in the form of Mr. Obama appearing shaky on issues of substance.
"The top 5, 10 foreign policy minds in the party are not supporting Obama," said one Clinton staffer. "His second rung of foreign policy names, their Susan Rices and Tony Lakes, are not up to the task of heading a foreign policy team for a Democratic nominee. If it's mid-July and they have not brought on a lot of the staff, supporters and advisers from the Clinton campaign, they will be making a serious mistake."
According to this school of thought, Mr. Obama's foreign policy platform—especially the few components that are different from Mrs. Clinton's—was cobbled together on the fly, and this was in part a function of the lack of an authoritative foreign policy advisory team to guide him. The campaign's pre-Ohio wobble on Nafta; the forced resignation of adviser Samantha Power for raising questions about Mr. Obama's commitment to troop withdrawal; and adviser Susan Rice's comment to MSNBC in March that Mr. Obama and Mrs. Clinton were "both not ready" to receive an emergency phone call at 3 a.m. are all symptoms.