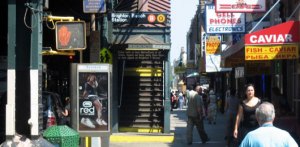 Pat Singer, the founder of the Brighton Beach Neighbors Association, has lived in the Brooklyn neighborhood for 44 years.
But she is not, as she estimates roughly 80 percent of her neighbors are, a Russian immigrant, and does not speak the language.
So she had a hard time one evening around Thanksgiving of last year explaining to the 20 or so elderly Russian Brighton Beachers what they were doing at her organization's offices at Brighton Beach Avenue and 14th Street on a Monday evening.
Everyone was surprisingly giddy about the prospect of another outing.
Just the week before, they had gathered at Ms. Singer's offices to get on another bus, a fancy charter bus, to go to a church in Chelsea and act as extras on a film called Fighting, by Dito Montiel, starring Terrance Howard and Channing Tatum.
A company called Kee Casting had called up Ms. Singer to ask her to gather precisely 68 Russian-speaking actors.
As extras, their job was to cheer in Russian when Channing Tatum was down in a fight against a Russian street fighter, and boo as he was winning.
One elderly man was particularly inspired by the scene, as he yelled Russian profanities at Mr. Tatum's character, which may not have to be bleeped out. They were paid generous union wages—about $600 per day counting overtime—and Mr. Howard, who plays Mr. Tatum's trainer in the film, even came over to say hello and snap a few photos with the Russians.
This week's trip was decidedly less glamorous. The group was waiting patiently to board a yellow school bus that would take them to the second-floor auditorium of Coney Island Hospital, about a five-minute drive away, to protest the city's plans to redevelop neighboring Coney Island.
"They were so excited about the extra work, but I told them, this is not a movie we're going to, it's a meeting," Ms. Singer said.
Before boarding the yellow bus, Ms. Singer informed everyone that the legacy of Coney Island was in danger, that some developers and city officials didn't get that, and that it was their responsibility as residents to save the amusement area.
After Ms. Singer finished explaining the purpose for the trip, she said in a manner of a general about to charge, "Now who's with me?" When the elderly residents reciprocated her enthusiasm as best they could, everyone boarded the bus.
Many of them barely spoke or understood English, but Raisa Veksler, who emigrated from Ukraine 27 years ago but who, unlike the other residents, is fluent in English, served as a translator.
Community Board 13, of which Ms. Singer is a member, had organized this meeting with the Coney Island Development Corporation, a city-led agency charged with pushing Coney Island plans along.
Joe Sitt of Thor Equities, who bought up much of the private amusement land in Coney Island, wants to build more residential structures to offset the costly amusements; the city would rather keep condos and time shares to the south side of Surf Avenue and away from the noisy attractions.
The two parties have even disagreed on the types of entertainment retail in the area, with the city proposing a Virgin Records, Madam Tussauds and Dave and Buster's, and Mr. Sitt, an enclosed water park.
Ms. Singer's idea was to show up in force to voice the Brighton Beach Russian community's opposition to plans that would in any way threaten the already limited amusement area; but with many of her prospective objectors over 60, she needed to make it a bit easier to manage. And State Senator Carl Kruger, a Democratic representative for the Brighton Beach neighborhood, called offering a bus.
Ms. Singer, on behalf of her Russian neighbors, sees another opportunity.
"They are segregated!" she said of the Russian immigrants who populate Little Odessa, as Brighton Beach has been nicknamed. "It's a terrible thing to say, but I didn't realize what a ghetto I was living in here!"
"They read their own papers, watch their own television programs, and shop in stores where there is no English," she said. "It feels like a closed-off community, but I am hoping to see tourist buses coming down here. They go to Chinatown and Little Italy, why not Little Odessa?"
One reason might be that Little Odessa is hardly the cute Epcot Center microcosm of traditional Russian-American life.
Russian ladies promenade down Brighton Beach Avenue sporting extravagant minks and animal print head to toe; restaurants and nightclubs in the area give the commercial strips less the look of a scene from a resort strip in Odessa than a look of—well, what it is: an immigrant neighborhood in New York City. It's gritty, it's sometimes tacky and it's never exactly du monde.
Nor is the scene at its authentically most Russian necessarily the most welcoming one. It's a district that's strictly FRBR: For Russians, By Russians.
There are 21,331 Russian and Ukrainian residents in Brighton Beach, outnumbering immigrants from Italy, China, Mexico and Pakistan combined in the area, according to data from the 2000 census.