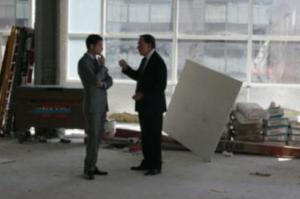 Billy Macklowe, president of Macklowe Properties since 2002, is expected in the next few weeks to succeed his father as chairman of the firm, according to the Wall Street Journal this morning.
The succession, not entirely voluntary on Harry's part, is fallout from the nearly $4 billion deal cut over the weekend that cost the Macklowes ownership of their jewel, the GM Building at 767 Fifth Avenue, as well as three other Midtown towers.
That deal was spawned from a trade nearly 15 months ago in which the Macklowes bought seven Manhattan towers from the Blackstone Group for $7 billion. Much of that $7 billion was borrowed, and the intervening credit crisis plunged the House of Macklowe into disagreement over how to repay the loans.
Now that the dust has settled, 40-year-old Billy has begun to clean house, according to the Journal, getting rid of some of 70-year-old Harry's advisers and replacing them with consultants from Citigroup and brokerage CB Richard Ellis, which handled last weekend's deal.
"I have my word and my reputation," Billy told the Journal regarding that deal. "I did exactly what I said I was going to do. Nobody got hurt and everybody is getting their full recovery."