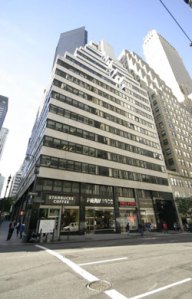 AEW, the Boston-based financial adviser that bought 119 West 40th Street in 2006 and flipped it last year, is in contract to buy 360 Lexington Avenue, a 24-story, nearly 250,000-square-foot office building at 40th Street, according to a source close to the negotiations.
The source said the selling price for the terraced, black-and-white building was "in the ballpark" of $150 million (or about $600 a square foot). That makes it one of the heftier Manhattan building trades of 2008, a year devoid of the mega-deals of its most immediate predecessors.
A spokeswoman for AEW declined to comment. The owner, 360 Lexington LLC, of which Himmel + Meringoff appears to be a partner, according to city records, referred all questions to CB Richard Ellis power broker Darcy Stacom. She did not return a request for comment.
The seller apparently bought the building from a Chicago-based LLC in 2002 for $62 million.
Colliers ABR is representing AEW in the transaction.