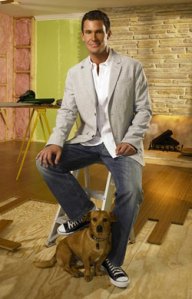 LOS ANGELES—Jeff Lewis is a 38-year-old real estate investor who, last year, agreed to have his life filmed by Bravo for a television show about flipping houses. The first season of his show, Flipping Out, showed audiences six episodes of a deeply neurotic man who treats his staff like a dysfunctional family and has managed to turn his obsessive-compulsive disorder to his advantage. "I'm very fortunate, because I found a business that validates and celebrates my disorders," he told the cameras.
And so the houses he renovates, all of which are in Los Angeles's Loz Feliz neighborhood, are meticulously designed and decorated in an upscale West Elm/Jonathan Adler style, with all the accoutrements that the bourgeois homeowner requires in this day and age: Viking ranges, Fisher & Paykel dishwashers, Sub-Zero refrigerators, soaking tubs. (Mr. Lewis hopes to parlay his reality show experience into product design and books, a "younger, hipper spin on what Martha Stewart's doing.") The new season, which starts on June 17, features Mr. Lewis and a rotating cast of assistants, housekeepers, real estate agents, contractors, painters, trash guys—not to mention psychics, spiritualists and cat acupuncturists.
In one scene from last season, Mr. Lewis almost gleefully demolishes a home that, to the untrained eye, looked as if it were already in mint condition. But to Mr. Lewis, the house's previous occupants made "every mistake" they could possibly make—a $400,000 renovation, down the drain.
"Who uses Travertine tiles anymore!" he exclaims when he sees the bathroom. "People stopped using Travertine eight years ago. Pick up a magazine, people! Learn the trends!"
Mr. Lewis always lives in one of the houses he's renovating, and when The Observer paid him a visit a couple of weeks ago, his home was virtually unrecognizable. The house, which he purchased for $800,000 in season one, had been a complete dump. (Mr. Lewis had gone so far as to sneak his contractors into the house before it was appraised, to paint and clean up—an illegal move, he admitted on camera—to make sure the appraisal would come in close to his $800K bid, thus allowing him to get a mortgage.) In any case, after $400,000 in renovation costs, the Commonwealth house (named after the hilly street it's on in L.A.), looked nothing like its former shabby self.
A wooden gate opens automatically when visitors come by, and they're usually greeted by Mr. Lewis' dogs and his housekeeper, the long-suffering Zoila, who lives with him. (Mr. Lewis, who is gay and single, surrounds himself with people at all times, but as his longtime assistant, Jenni Pulos-Elwood, puts it, "Jeff cares more about his animals than any human.") The living room, where he and Ms. Pulos-Elwood were lounging, felt like a set for a magazine photo shoot. There was a flat-screen television, and an oil painting of Zoila, and a soft brown couch, where I sat with Ms. Pulos-Elwood. Mr. Lewis was curled up in a boxy white leather chair. On the coffee table were a book of Mario Testino portraits and Monkey, one of his two cats.
Mr. Lewis wore a khaki shirt and jeans, and black low-top Converse, which he quickly removed. He is perfectly tanned. He has admitted to getting Botox, and his forehead is remarkably smooth. "I think I have more respect for people than I did before," he said. "I'm still not the most sensitive or respectful person, but I'm definitely more self-aware. I needed to see myself on TV—I needed millions of people to see my behavior." He has started seeing a therapist once a week, and, he says, he has stopped relying on psychics as much.
"His OCD is worse than ever," said Ms. Pulos-Elwood.
"I'm a more understanding person," said Mr. Lewis. "What do you think, Jenni?"
Ms. Pulos-Elwood grinned wildly and took a moment before responding. "I think that you are not just erupting immediately," she said, very slowly. "You take a minute and think. The teasing of the employees—well, there's room for growth."
"It's like high school," said Mr. Lewis. He leaned down and straightened out his Converse so the heels were exactly aligned.
Mr. Lewis requires that all the labels on anything in his fridge face outward. He orders lunch for his staff every day and puts in drink orders such as "70 percent lemonade, 20 percent punch, 10 percent Sprite. If they don't have punch, do like 85 percent lemonade, 15 percent Sprite. If they don't have lemonade, do like 85 percent punch and 15 percent Sprite. Or 7-Up."