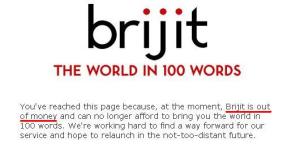 It seems like just yesterday—well, late October, anyway—Brijit.com, the website that read and summarized magazines, was launched. At the time, The Washington Post's Frank Ahrens profiled Brijit's founder, Jeremy Brosowsky, and wrote, "[T]he Internet is littered with good ideas that turn out to be bad businesses, and online publishing can be especially tricky: Do you go mass-market or niche? Subscription-based, or free and ad-supported? Original content or aggregation of other content?"
Yesterday, the site ceased publishing new content. In a farewell post on his own site, Brosowsky wrote, "Unfortunately, despite our best efforts, we've run out of money, and can no longer afford to pursue our vision of adapting great long-form content for a short-form world, at least not as a stand-alone company. As recently as yesterday morning, we thought we had the funding in place to continue our work together. But as it turns out, we don't."
According to CNet News' Caroline Murphy, "Brijit, founded less than a year ago, had been funded solely by angel investments." CNet tagged their report "Bubble 2.0 Watch," which raises questions about other similar news aggregator projects like Vanity Fair columnist Michael Wolff's brainchild, Newser.com, and former New Yorker editor Tina Brown's still-incubating project with Barry Diller. Here's what Wolff wrote about the creation of Newser last year in Vanity Fair:
This embarrassment of riches, or of repetition, has resulted in a further news anomaly: the aggregators (such a sexy Internet word). There's Google News or MyYahoo (the fastest-growing news distributors online), or news services such as Digg, all of which collect, rank, and display news without any human intervention (or in the case of Digg, which ranks news on the basis of user votes, with the help of random passersby and passionate imbeciles). Their owners and managers are interested not in blood and scandal but in collection, in data hierarchies. These are technology guys, not news guys. This results in a kind of autistic tone for the news, undifferentiated, machine-collected headlines from the Times to the Karachi Journal: can't emotionally relate.