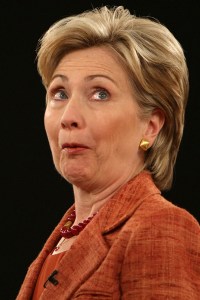 The Democratic nomination? Barack Obama will have the delegates he needs to claim it. What hasn't been resolved yet is how fiercely and for how long Hillary Clinton will challenge him. The outcome of Tuesday's primaries could go a long way to determining this.
The votes in Kentucky and Oregon are the last Democratic contests scheduled before a May 31 meeting of the Democratic National Committee's Rules and Bylaws Committee, a panel that figures to return to the obscurity it richly deserves as soon as this campaign is over. At the May 31 session, the 30-member committee will hear challenges from Democrats in Michigan and Florida, who were stripped by the national party of their convention delegates for scheduling their primaries in violation of the D.N.C.'s calendar.
The Clinton campaign, which according to media reports has at least 13 supporters on the committee, badly wants the panel to rule in favor of both states, where she won outlaw primaries back in January.
Such a decision would have several effects. For one, it would cut Obama's lead among pledged delegates. It would also expand the overall pool of convention delegates by several hundred (depending on whether both states' delegations were seated completely or just partially), thereby increasing the number of magic number of delegates needed to win the nomination from 2,026, where it now sits, and creating more distance between Obama and outright victory. Also, by seating Florida and Michigan, the panel might lend credibility to Clinton's claims of an advantage in the overall popular vote, which she bases on the inclusion of both states (especially Michigan, where Obama's name wasn't on the ballot).
At best for the Clinton forces (meaning full representation for Michigan and Florida based on the January results), the delegate magic number would swell to 2,209, while Obama, as of Monday night, has just over 1,900 pledged and superdelegates. At the current pace, he is likely to need only a handful of superdelegates once the final primaries in South Dakota and Montana are held to put him over the top. With Florida and Michigan in the mix, he would need more, and the process could take longer and, depending on how the Clintons play it, it could get messy.
Which brings us to the potential importance of Oregon and, to a lesser degree, Kentucky. An impressive showing by Obama on Tuesday will only hasten the steady (though not yet overwhelming) flow of uncommitted superdelegates into his camp, something that would give him more leverage heading into the end-of-May meeting, at the expense of Clinton. In effect, a flood of superdelegates to Obama between now and then could position him to push for a compromise on the Michigan and Florida issues that would remove the issue once and for all from the public arena. And that, almost certainly, would hasten the end of the Clinton challenge.
The best bet right now is that Obama will win a double-digit victory in Oregon while suffering a West Virgina-esque drubbing in Kentucky, where he barely campaigned in an effort to downplay expectations. Thanks to proportional allocation, he'll easily collect enough pledged delegates on the day to claim an outright pledged delegate majority for the primary season (based on numbers that don't include Florida and Michigan).
If Oregon and Kentucky produce the expected results – or if Clinton does better than expected in Oregon – Obama probably won't pick up the superdelegates he needs to claim outright victory by May 31. And if that's the case, his forces will have no choice but to enter that meeting in a defensive crouch, seeking to deny Clinton the media victory and talking points that would come with seating the delegations. Even if they were to succeed, they'd pay a price: With Michigan and Florida unseated, Clinton could continue to threaten to take her campaign all the way to the convention.
But if Obama were to fare significantly better than expected on Tuesday – perhaps a 20-point win in Oregon and finishing within 15 points of Clinton in Kentucky – the superdelegate floodgates could open, with the party's elders finally feeling safe in declaring the race over.
This new support would essentially serve as Obama's insurance policy at the meeting. Suddenly, he'd be in position to take a magnanimous posture, with his new superdelegate support providing padding to absorb whatever gains Clinton would make through a compromise on Florida and Michigan. Instead of fighting the idea of seating the delegations at all (and tabling the issue until later in the summer, or even the convention itself), Obama could be positioned to advocate a reasonable compromise that would win over the panel's uncommitted members (neither Clinton nor Obama now has a majority on the Rules and Bylaws Committee) and kill the dispute once and for all.
The superdelegate onslaught that Obama needs to make this happen could come even if he doesn't exceed expectations tomorrow. Maybe the superdelegates will still be swayed by his claim of a pledged delegate majority. But the argument will be a lot more compelling if the Democratic voters of Oregon and Kentucky send a clear message that they, too, are ready for this to be over.