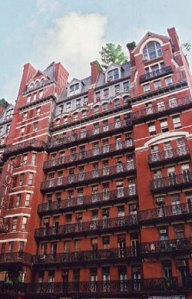 Also on Friday, May 9, the Chelsea Hotel's grand ballroom was opened for the first time in years, hung with more than 100 photographs of the ancient bohemian enclave and its many edgy inhabitants, including rockers Patti Smith and Dee Dee Ramone.
Celebrating its 125th anniversary, the legendary lodge recently saw its second management shake-up in less than a year amid stalled renovation plans and evictions of at least 15 tenants. Perhaps it's unsurprising that hotel vice president, David Elder, who co-curated the exhibit with resident photographer Linda Troeller, was chased from the exhibit hall by a masked doppelgänger dressed in a hotel bathrobe. A stink bomb was also set off.
The next evening, on his way to a party celebrating the exhibit, Mr. Elder was fiercely confronted at the front desk by a tenant, Arthur Nash, himself a curator, who'd beaten the landlord in housing court only a week earlier. Mr. Elder fled to the hotel's subterranean Star Lounge, where a bouncer stepped between them, allowing his escape into the bar. ("I never got physical with him or threatened to get physical," Mr. Nash told the Transom later. Mr. Elder refused an interview.)
Later, after stepping outside briefly, the hotel exec returned to the party with a security guard after being doused from a balcony above. Staff called the cops. When they arrived, with stun guns drawn, firefighters were already there. Someone had called to complain about overcrowding inside.