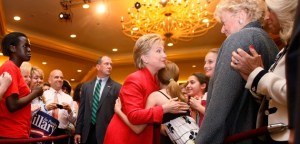 The Obama campaign has started reaching out to Hillary Clinton's top fund-raisers, said one major donor to Clinton, who also said that despite the courtship, none of the most prominent donors were likely to move over as long as she kept running.
"People in my circle are not going to publicly knife Hillary," said the fund-raiser. "We are all going to let her go through this, we are going to stand by her proudly, let the process work forward and no one is going to flinch. And there will be time if the Obama people want to reach out."
The donor also said that the Democratic National Committee would feature Al Gore at a May 31 fund-raiser, which will be a way for Clinton donors to help Barack Obama without seeming disloyal to Clinton.