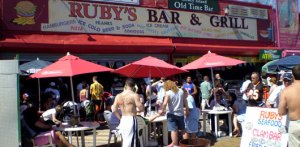 The jukebox at Ruby's Bar & Grill was cranking out its usual eclectic mix of beachy classics—Frank Sinatra's "Strangers In the Night," Milli Vanilli's "Blame It on the Rain"—this past Saturday when proprietor Michael Sarrel abruptly pulled the plug.
"Finish your drinks!" he told patrons of the venerable Coney Island venue at 5:22 p.m.
The old boardwalk bar was closing early, long before last call or even sunset, due to an apparent "safety hazard," he said.
As the boozy crowd abandoned their beverages and shuffled out, a slew of firefighters, police and paramedics huddled in the back amid the eerie glow of a bright Coors Light sign near the men's restroom.
This reporter, too, took one last swig and then headed over to an officer in shorts and a blue polo shirt marked "Community Relations," who bluntly summed up the situation: "One guy was taking a leak, the floor partially collapsed, and he fell 10 feet."
He landed in the bar's dank basement, itself a once-hopping nightspot several decades ago, where even today, amid "rats … bigger than dogs," as veteran Ruby's bartender Frank Gluska once told New York magazine, "you feel like spirits are still there drinking."
Not that the fallen patron probably appreciated the history lesson. When he finally emerged from the gaping hole in the floor—which firefighters estimated at roughly 6 by 6 feet—he was, in the words of one Ruby's employee, "literally covered in shit."
When the floor gave way, apparently, so did the plumbing.
Yet the soiled and presumably shocked patron still managed to climb a ladder to safety, witnesses said, though he was later carried off on a stretcher and loaded into a waiting ambulance.
Stranger things have happened at Ruby's over the years. In 2005, for instance, a small Cessna plane crashed into the sand outside. One of the regulars was said to have heroically leaped from his bar stool, leaving his beverage behind while he rushed out to help pull victims from the wreckage.
To Ruby's die-hard devotees, Saturday's freak bathroom accident perhaps seemed even more ominous.
Neighboring boardwalk merchant Dianna Carlin of the adjacent Lola Staar Souvenir Boutique, for one, was worried that the incident might give Ruby's landlord, developer Joseph Sitt of Thor Equities, enough of an excuse to finally demolish the old brick building, much like he bulldozed the batting cages and go-cart track behind the bar last year.
It takes only one bad building inspection to bring down a Coney Island institution, as locals duly learned from former Mayor Rudolph Giuliani back in 2000, when he razed the run-down Thunderbolt roller coaster in the middle of the night during construction of the nearby minor league baseball stadium, KeySpan Park.
While clouds of doom have long hovered over the lingering relics of Coney Island's ever-shrinking amusement district, losing Ruby's would be "the loudest death knell," said filmmaker J. L. Aronson, who's currently shooting a documentary about the decaying seaside destination entitled Last Summer at Coney Island, a project he began, inronically, prior to last summer.
Given 2007's PR debacle over the scrapped batting cages and go-carts, Mr. Aronson doubted that the developer would be so quick with the wrecking ball this time. "Coney Island would be soulless without Ruby's," he said.