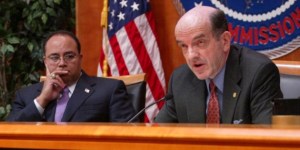 Several weeks ago, David Barstow wrote an investigative piece for The New York Times taking a hard look at a group of ex-military pundits and their relationships with the Pentagon during the run-up to and early stages of the war in Iraq. Today, in the Politico, former Media Mobster Michael Calderone and his colleague Avi Zenilman report that while the television networks have mostly ignored the unflattering revelations in the Times story, various Democratic Congressional leaders are now calling for investigations "that could provoke the networks to finally cover the Times story—and, in effect, themselves."
More from Politico's story:
On Tuesday, Reps. Rosa DeLauro (D-Conn.) and John Dingell (D-Mich.) sent a letter to Federal Communications Commission Chairman Kevin J. Martin "urging an investigation of the Pentagon's propaganda program" to determine if the networks or analysts violated federal law.
FCC Commissioner Michael J. Copps, a Democrat, applauded their efforts. "President Eisenhower warned against the excesses of a military-industrial complex," Copps said in a statement. "I'd like to think that hasn't morphed into a military-industrial-media complex, but reports of spinning the news through a program of favored insiders don't inspire a lot of confidence."
DeLauro said by phone that the Pentagon's program was "created in order to give military analysts access in exchange for positive coverage of the Iraq war."
The FCC request follows DeLauro's April 24 letters to five of the most powerful network executives: NBC News President Steve Capus, ABC News President David Westin, CBS News President Sean McManus, FOX News chief executive Roger Ailes and CNN News Group President Jim Walton.
Only ABC and CNN have responded so far, according to DeLauro, who is not the only member of Congress calling attention to the Times story.
Both Sens. John Kerry (D-Mass.) and Russ Feingold (D-Wis.) have written to the Government Accountability Office, seeking an investigation into whether the Pentagon aided in connecting military analysts with contractors.