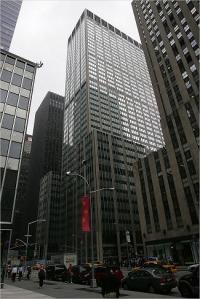 Brokerage giant Cushman & Wakefield will relocate its headquarters to an enormous new space on Sixth Avenue.
C&W, which calls itself the "largest privately held commercial real estate services firm," signed a 15-year lease for a whopping 156,282 square feet, the entire seventh floor and portions of the eighth and ninth floors at 1290 Avenue of the Americas, between 51st and 52nd streets. The 43-story Emery Roth & Sons-designed building is owned by Vornado Realty Trust.
The firm's headquarters are now at 51 West 52nd Street, in 155,000 square feet spread out through nine floors.
"The building's large floor plates will allow for an open environment, fostering communication among our employees and various service lines," said Bruce Mosler, president and C.E.O. of Cushman & Wakefield, in a statement.
Cushman & Wakefield Vice Chairman Franklin Speyer and Senior Director Amy Fox represented the brokerage in the negotiations. Vornado was repped by Glen Weiss and Tom Costanzo.
According to Cushman & Wakefield's first quarter stats, the average asking rent for the Rock Center segment of Sixth Avenue was $102.89 a square foot.