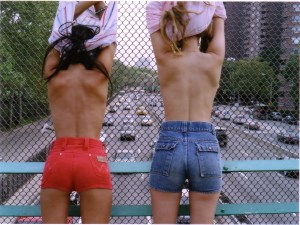 Last fall, at a Lookbook shoot for Sophomore, her fashion line, designer Chrissie Miller, daughter of astrologist-to-the-stars Susan Miller, deployed a crew of her downtown friends to bop around Manhattan with a bag of her '70s-inspired clothing. "Wild child" '90s poster girl Bijou Philips; photographer Terry Richardson's arm candy Jen Brill; Internet It Girl Cory Kennedy; and rock band the Virgins pulled on Ms. Miller's high-waisted short shorts, roomy T-shirts boasting a giant peace sign, and drawstring tank dresses. They smoked cigarettes under the Manhattan bridge, frolicked in fountains, rode on bicycle handlebars, crawled all over each other in realistic makeout sessions. It was all very Ryan McGinley circa 2002.
As they walked across the footbridge over the F.D.R. Drive, Cass Bird, who was taking the pictures, coaxed Ms. Philips and Ms. Brill into giving a little show to the cars below. In what became Sophomore's signature photo, the ladies' bare backs are to the camera, showing off Ms. Brill's apple red short shorts and Ms. Philips' classic denim ones, as the girls lift their shirts over their heads and bare their breasts to the cars zooming below.
Talk about stopping traffic!
But Ms. Miller—a member of the litany of socialite designers who seem to shy from a traditional life of charity work to play dress up instead (think Lucy Sykes Rellie, Samantha Ronson, Tinsley Mortimer)—isn't trying to be racy with her Sophomore fashion line. It's all basic stuff; U-neck tops, T-shirt dresses, sweatshirts with asymmetrical zippers. Sure, the photo's a little racy, but it's also cute, almost innocent. In a season overburdened with trends, Sophomore's kid-inspired, goofing-around basics are refreshing (if not cheap—shirts go for around $60 and dresses for $200).
"Sometimes in life the simpler things are harder to find," said Ms. Miller, 31, about deciding on what she wanted to make. "It was like, oh, I can get that anywhere, but I really couldn't."
Ms. Miller sat in her sparse studio on Chrystie Street, around the corner from the Bowery Whole Foods and above hip downtown club 205. A painting of Mick Jagger hung on the wall, with a vintage American flag. Over a rack of clothes, a framed print of that topless F.D.R. Drive shot winks at visitors.
Designer Madeleine Von Froomer, 28 a New Orleans native who worked for Proenza Schoeler before quitting to join Ms. Miller about a year and a half ago, was also at the studio. Ms. Froomer looks like a prettier Natasha Lyonne, same unwieldy, relentlessly wavy blond hair, but with an endearing gap in her teeth. She wore moccasins and enormous jeans, barely held up by her belt. Ms. Miller wore light cigarette jeans and one of her hoodies, and twisted and tossed her long blond hair from left shoulder to right. She has a smoker's voice, though she doesn't smoke.
"I think fashion-wise the '70s is the most flattering silhouette," Ms. Miller said. "The high waist, long legs."
Ms. Froomer nodded. "There's an ease to the clothing."
Ms. Miller added, "The '80s was this awkward body shape."
"Yeah, there was the broad shoulders and the narrow waist with the power suit," Ms. Froomer said, drawing a triangle shape in the air. "In the '60s, everything was so mod. It was a cute look, but you don't want it every day."
"The '70s we always come back to."
"To me, the fashion was so accessible and sexy."
"Definitely."
"To me, everyone has a sort of nostalgia for the '70s. I mean, I was born in '79, so what do I know about the '70s? But, you know, like Carter's in the White House. AIDS hadn't hit yet. I think that's part of it. It was this idealized time."
They decided on the name after flipping to "sophomore" in the dictionary and found the definition "wise fool."
Ms. Miller stumbled into the basics business in 2003, when she did graphic designs for Charlotte Ronson's eponymous store. In the baby stages of Sophomore, she partnered with another designer, Shawn Regruto (the man behind 1999's It T-shirt MODELS SUCK), to make a kind of sarcastic band T-shirt. On the one they came up with, the front monkeyed the logo for hairboy rockers the Strokes, but the words read "The Socialites." Ms. Miller had a few freelance assignments for Abaete, Christian Dior and Ms. Ronson, but decided to start her own fashion line after the T-shirts became so popular. Mostly, though, she just wanted to make clothes for her semi-famous friends.
"If it was just me, it would be all T-shirts," said Ms. Miller. "[Madeleine] made it more fashionable. She always says basics are all about the details. And how do you make something different than something you always see. How do you make a zippered sweatshirt when everyone has made a zippered sweatshirt? How do we make it different or more special?"
In other words, how do you make it different from American Apparel?
"I started doing this because I wasn't happy with the fit and the material" of American Apparel clothes, Ms. Miller said. "Another problem with American Apparel, I don't know if it's just me, but it's just so distinct. Isn't it weird? Something has happened where you can spot it coming from a mile away."
If American Apparel is a freshman in the '80s—too bright and too tight—Sophomore is its barely older sister, with a nod to the '70s and a kind of collegiate idealism. There's a simplicity and innocence to Sophomore's striped polo shirts and simple tops.
Sophomore has motorcycle jackets made out of sweatshirt material. The T-shirts aren't too teeny; they're easy to wear. Their most popular item is a zipper dress that looks like it's being worn inside out because the zipper is showing on the outside. Sophomore is currently in about 20 stores worldwide, including Opening Ceremony, Blue & Cream and Ms. Ronson's store downtown. The girls just finished designing for spring 2009 and are in production with their fall line.
"The ultimate outfit is always going to be the jeans, the T-shirt, the jean jacket and the good hooded sweatshirt," Ms. Miller said.
Except, possibly, for short shorts and no shirt.