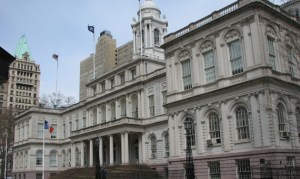 David Chen, the longtime Trenton reporter for The Times, is replacing Diane Cardwell as the paper's City Hall bureau chief, according to an internal memo. Mr. Chen will join Michael Barbaro and Fernanda Santos in Room 9.
Mr. Chen's departure means there's a vacancy in Trenton, but at this point it's unclear whether the paper has any intention of filling it.
Over the last few months, the Metro section has taken a beating as the paper has cut about 100 staff jobs through buyouts and layoffs. As a result, the Metro desk is in the process of a reorganization of the entire section, or as one reporter described it, a "retrenchment." Metro editor Joe Sexton has always been a city guy at heart, so if something has got to go, the suburban bureaus in Newark, Trenton, Westchester, Long Island and Connecticut appear to be the first target.
"Joe Sexton and his team at Metro are in the process of reorganizing the department to maximize our impact," said Bill Keller, through his spokeswoman, Diane McNulty. "More reporters will be pointed at covering New York City. New beats are being conceived."
And what of the suburban bureaus?
"The Metro desk will continue to cover major breaking news in the region—including New Jersey and Connecticut," he said. "No decisions have been made about closing bureaus, though there is nothing set in stone about the current deployment. There is no plan to lay off staff."
We're hearing from newsroom sources that regional reporters will become more like general assignment reporters, so there will be fewer Westchester- and Montclair-specific stories and more generalized-theme stories for the entire region. It sounds remarkably similar to what the paper decided to do with its weekly Sunday regional sections. It's widely considered that those sections have almost entirely given up on local reportage. Now the same could be true of the Metro report.