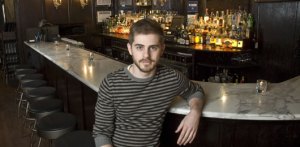 David Kaplan, owner of embattled East Village cocktail cathedral Death & Co., is suing the State Liquor Authority (S.L.A.) over its refusal to renew his liquor license.
Mr. Kaplan had formally requested a reconsideration of that potentially business-killing decision this past February—a request the S.L.A. has since denied.
In court papers, Mr. Kaplan and his attorney have argued that the proprietors "never defrauded nor made misrepresentations" to the S.L.A.—despite what some critics in the neighborhood have alleged.
The S.L.A. denied Mr. Kaplan's renewal last December because "the method of operation and hours of operation currently in effect … are in contradiction with the method of operation and hours of operation originally filed with and approved by" state regulators.
The controversial nightspot has been closing at midnight ever since in the hopes of appeasing the liquor board. Mr. Kaplan also paid a $10,000 fine and closed down for a full seven days in order to settle the matter with the S.L.A.
"The Authority then uses these same pleadings, which were resolved by the settlement offer and accepted by the Authority, as a basis for the non-renewal," according to the lawsuit, which asks the court to annul the S.L.A.'s ruling as "arbitrary and capricious."