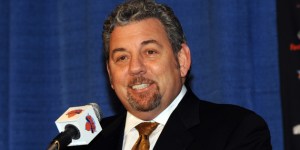 Later this morning, Newsday should belong to the Dolans.
Their $650 million bid will likely be accepted by Tribune owner Sam Zell later this morning, and the only thing that stands in the way are "minor details," said Charles Dolan in an interview last night with Newsday. The Times reports that Charles and James Dolan were in Chicago two weeks ago talking to Sam Zell, and Cablevision bankers and lawyers are there now hashing out the final terms of the deal.
"I think they're just finishing things and we should hear something shortly," said Charles Dolan.
Tim Arango and Richard Perez-Pena report that Wall Street is baffled with why the Dolans want to own the newspaper. And Mort Zuckerman seems totally satisfied that the paper will belong to them and not Rupert Murdoch. The Journal reports:
For his part, Mr. Zuckerman seemed unfazed by the outcome. Reached at his home Sunday, Mr. Zuckerman said he was taking a piano lesson, adding that his daughter had just expressed admiration for his rendition of Andrew Lloyd Webber's "Memory."