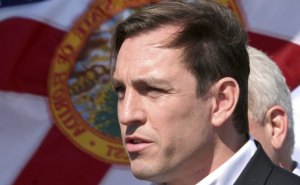 The Republican district attorney of Staten Island, Dan Donovan, who many considered to be the leading congressional candidate to run for the seat being vacated by Republican Vito Fossella, says he is not in the running. His public statement was just released:
"While I am sincerely flattered by the time and attention focused on me at this time, and I am truly humbled by the expression of trust so many have placed in me and in my ability that they would forward my name to be the person to represent Staten Island in Congress, I feel that at this time, I am best able to serve the people of Staten Island in the position to which they re-elected me by such an overwhelming marging just six months ago as their District Attorney.
"Therefore, I am now removing my name for consideration for a candidacy for Congress."
That now leaves State Senator Andrew Lanza as the top Republican candidate for the seat. But if Lanza were to run, it would leave a seat vacant in the State Senate, where Republicans have a two-seat majority.
Lanza's district has elected a Republican since 1956, when his predecessor, John Marchi, was first elected. But it's unclear now whether Republicans would be able to hold off a strong Democratic challenge. Democrats have picked up two previously-Republican seats in recent special elections.
UPDATE: Democratic City Councilman Mike McMahon said Donovan (who he's known since high school) made the right decision to not seek the office. McMahon said he's still considering a congressional run but is trying to work with other possible candidates to avoid a Democratic primary.
"My heart is totally in it. But I am a loyal Democrat and am doing my best to work within the parameters within the party structure and [with] my fellow elected officials," he said.
He said he thinks a final decision about which Democrat is running has to be made by the end of this weekend.