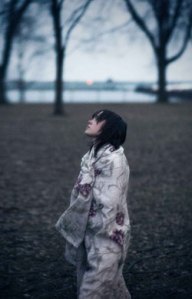 THE TRACEY FRAGMENTS
Running Time 78 minutes
Written by Maureen Medved
Directed by Bryce McDonald
Starring Ellen Page
On the heels of Juno and Smart People, Ellen Page is back, temporarily out of luck, in the dense and dreary Canadian film The Tracey Fragments. Filmed almost entirely in annoying split-screen frames, this audacious puzzlement is worth seeing, I guess, for some startling and innovative visual designs. But it doesn't amount to anything more substantial than a technical tour de force. In the film's evocation of a teenage girl's mind-set following an unsettling event, it resembles the equally pretentious Evan Rachel Wood-Uma Thurman fiasco, The Life Before Her Eyes.
Traumatized by the disappearance of her younger brother, social outcast Tracey (Ellen Page, exploring another troubled-teen identity crisis in ugly clothes) leaves her small town for the bright lights of … Winnipeg? Have you ever seen Winnipeg? I told you it was a head scratcher. Anyway, she's alone and broke, so she wanders the streets and hangs out on a city bus, encountering other weird outsiders and, every once in a while, catching a glimpse of someone who might be her missing brother. Director Bruce McDonald, a Canadian cinematheque favorite whose work is rarely seen outside of the Toronto International Film Festival for good reasons, shuttles between tones wildly to reflect the vertiginous nature of Tracey's rapidly changing mood swings. They careen from schoolgirl fantasies about a punk named Billy Zero, to quasi-surreal run-ins with a remote, ineffective shrink and her near-catatonic parents, to frenzied accounts of high-school persecution. The voice-over narration is peppered with the kind of obscenities that oscillate between shocking and endearingly childish, at which Ellen Page excels. Worse, the use of double images is consistently maddening. It's not a new device, just deadlier than a blank screen. Mr. McDonald pushes the envelope so far that he eventually tears the screen apart—literally—in an effort to capture Tracey's internal head trips. Or maybe he just wants to keep the audience awake.
Everything fails, as this horror drags on for 78 minutes of misery. The only redeeming factor is Ellen Page, who is both infuriating and touching. But her fan base will not only sleep through The Tracey Fragments—they'll snore.