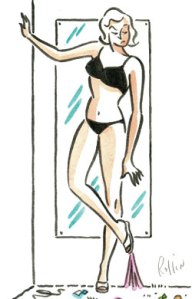 1. Century 21
Cortlandt Street near Broadway
Doorless dressing rooms make you feel like you're changing in the high-school locker room.
2. American Apparel
Citywide
Eerie, too-bright lighting illuminates every lump and bump and gives skin a sickening green or radioactive purple tinge.


3. Forever 21
Union Square
You can hear your neighbor's every move through the cheap canvas curtains. Nobody needs to hear the girl next door screeching into her BlackBerry about last night's drunken debauchery.
4. Loehmann's
Seventh Avenue at 18th Street
We could write a novel during the time we spend standing in line, waiting to try on clothes in the legendary disaster that is the communal dressing room, with its piles of clothes, flourescent light and lack of privacy. (The shame is only mitigated by the fact that you sometimes see people in worse shape than you.) If you make it into a stall, expect a heap of clothes left by the previous occupant.
5. Victoria's Secret
Citywide
Weak lighting and cheesy pink walls force you to search for your inner slut—and then abandon her.
6. Brooklyn Industries
Lafayette Street, south of Houston
Sweatboxes! Heat radiates from the light installations straddling the mirror. Are sweat stains a new part of hipster fashion?
7. Daffy's
Fifth Avenue at 18th Street
Cold tile floors, flimsy curtains and florescent lighting make you feel like you're changing in a hospital room.
8. Urban Outfitters
Broadway near East Houston Street
Cruddy rugs are littered with blackened gum, used band-aids and enough string for robins to make a spring nest. One word: ewwww.
9. Henry Lehr
Prince Street at Bowery
Teeny-tiny doors that barely conceal you from your bikini line to your bust are bad, but what's worse is that you're forced to come out of the cramped dressing room so the salesgirl can scrutinize your rear.
10. Tokyo 7
East Seventh Street at Second Avenue
The curtain is half the size of a regular human, so any tall person can leer at you in your panties as he walks by.