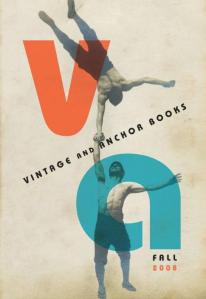 Marty Asher, editor-in-chief at paperback powerhouse Vintage Anchor, is stepping down after two decades on the job to take on a role at Knopf in which he will spend more time commissioning and acquiring books.
Vintage Anchor is the paperback division of the Knopf Publishing Group, and has been a major source of revenue for the company. Knopf chairman and editor-in-chief Sonny Mehta announced Mr. Asher's resignation in an e-mail to staff this morning, noting that more changes at Vintage Anchor, including promotions for some of the "very good people who have been Marty's longtime colleagues," will follow.
Mr. Asher has been on sabbatical since the beginning of this year. His number two, LuAnn Walther, has been running the show in terms of editorial work in his absence.
UPDATE: Ms. Walther has officially been named Mr. Asher's replacement as editor-in-chief. The announcement was made in a memo sent to Knopf Publishing Group employees by Vintage Anchor publisher Anne Messitte shortly after Mr. Mehta sent his.
Ms. Walther will report to Ms. Messitte, rather than to Mr. Mehta directly as Mr. Asher did.
The full memo from Mr. Mehta:
SONNY MEHTA
CHAIRMAN AND EDITOR IN CHIEF

May 19, 2008
TO EVERYONE AT THE KNOPF PUBLISHING GROUP

Marty Asher, as most of you know, was one of my first recruits when I came to Knopf. I'd known Marty from the old days and was a great admirer of his work at both Pocket Books and Book-of-the-Month Club. At the time, when I mentioned that we were looking to do something a little different with our paperback publishing program at Vintage and asked if he might be interested in working with us, he smiled at me and responded, "Game on."
Well, what a game it has been. During his two decades as Editor in Chief at Vintage Anchor, Marty, working with Publisher Anne Messitte, has helped make our trade paperback program the envy of the industry. They have presided over some of the most successful trade paperback launches in the history of publishing. And they have assembled a truly remarkable publishing team.
Through it all, Marty has kept up his work as an editor, publisher, and writer. What he has always enjoyed most, however, is his work as a commissioning editor. Whether he is working with Dan Gilbert on Stumbling on Happiness or Brian Greene on The Fabric of the Cosmos or Sam Harris on Letter to a Christian Nation, Marty is passionate about the editorial process. So I can't say that it came as a complete surprise when he stepped into my office recently and said that he wanted to devote more time to acquiring and editing books.
Of course I said yes. So, effective immediately, Marty is stepping away from his duties at Vintage Anchor and jumping in with both feet to become an Editor at Large at Alfred A. Knopf. This new role will allow Marty to acquire and edit more hardcover titles for the group.
Concurrent with this announcement, we will be making some changes at Vintage Anchor, promoting some of the very good people who have been Marty's longtime colleagues. A separate announcement about the Vintage Anchor promotions will follow. In the meantime, please join me in congratulating Marty on his new role and in wishing him hardcover success in the years to come.
———
ANNE MESSITTE
EXECUTIVE VICE PRESIDENT AND PUBLISHER
VINTAGE ANCHOR

May 19, 2008
TO EVERYONE AT THE KNOPF PUBLISHING GROUP

It gives me great pleasure to announce the following promotions at Vintage Anchor:
LuAnn Walther is being named Senior Vice President, Editorial Director, Vintage Anchor, reporting to me. For two decades as our editorial colleague at Vintage Anchor, LuAnn has been acquiring and publishing the kinds of books that have enabled our paperback program to grow and maintain its prominence. She has edited and worked with such writers as Chinua Achebe, Margaret Atwood, David Mamet, Alice Munro, Camille Paglia, Ali Smith, Sam Shepard, and Ha Jin, whose novel, Waiting, won the 1999 National Book Award and the PEN/Faulkner Award, as well as Richard Pevear and Larissa Volokhonsky, whose acclaimed translation of Leo Tolstoy's War and Peace became a surprise best seller last year for Knopf. Additionally, LuAnn has distinguished herself through her work on Everyman's Library, expanding the list of venerable titles to include modern classics.
Edward Kastenmeier is being named Vice President and Executive Editor, Vintage Anchor, also reporting to me. Edward's work with Alexander McCall Smith, Mark Danielewski, Kevin Brockmeier, and Henning Mankell has been a tremendous asset to our group, and his enthusiasm for backlist publishing has been instrumental in our reintroduction of Raymond Chandler, Dashiell Hammett, Jim Thompson, and Philip K. Dick, among others, to a new generation of readers.
Additionally, two of our greatly admired colleagues, Lexy Bloom and Jennifer Jackson, are being promoted to Senior Editors at Vintage Anchor. Lexy's work with writers such as Natsuo Kirino, Joshua Henkin, and Irène Némirovsky, and Jennifer's work with Jesse Ball, Amanda Boyden, Dave Eggers, and Lauren Fox continue to demonstrate our commitment to publishing significant voices in fiction.
2007 was a record-setting year for Vintage Anchor, and these editorial appointments, effective immediately, reflect the experience and talents of a team whose work has long kept Vintage and Anchor—the two imprints that launched the trade paperback business more than fifty years ago—at the forefront of paperback publishing. Please join me in congratulating LuAnn, Edward, Lexy, and Jenny and wishing them continued success in the years to come.