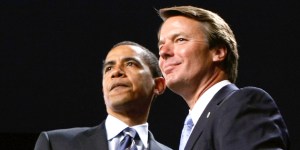 John Edwards' endorsement of Barack Obama matters because the media is treating it like it does. Twenty-four hours after Hillary Clinton celebrated a 41-point landslide victory in West Virginia, the press now has fresh reason to speculate about a final death blow to her campaign, creating a narrative that could unleash the decisive superdelegate flood the Obama campaign has been waiting for.
But, really, is this huge—or even surprising—news? Obama was going to win the nomination with or without Edwards' backing.
For the past 14 weeks, as Edwards sat on the sidelines, Obama has turned himself into the inevitable nominee. On countless occasions in that time, rumors of an impending Edwards endorsement sprouted, but they all quickly died. Only now, with Obama in firm mathematical control of the Democratic race, and Clinton playing out the string, has he finally decided to speak up. He's the guy who waits until a fourth-quarter blowout to tell you which team he's pulling for.
There were plenty of moments when Edwards' endorsement could have had a meaningful impact on the outcome of the race. But this would have involved a level of risk that Edwards, evidently, was unwilling to assume.
The first opportunity came as soon as he ended his own campaign, just after the Jan. 26 South Carolina primary and about a week ahead of Super Tuesday. In the media's telling, Obama was the ascendant candidate in the wake of South Carolina, his support surging in the big Feb. 5 states that had long formed the backbone of Clinton's strategy. An Edwards endorsement in this window would have been gasoline on a fire. But he stayed quiet.
Then there was the run-up to Ohio on March 4. With his string of decisive small- and midsize-state victories in February, Obama had pulled significantly ahead of Clinton in the delegate race, and her campaign appeared to be in collapse. Only a convincing Ohio win could save her. What a perfect moment for Edwards, who fared better in Ohio's 2004 primary than in almost any other state, to rally the state's working-class voters to Obama's side. But nothing.
A similar moment presented itself before Pennsylvania, with Clinton—and the media—openly challenging Obama's ability to connect with and relate to white working-class voters. But Edwards did nothing, and Clinton won. The battleground shifted to North Carolina and Indiana, the ideal setup for an Edwards endorsement: his home state and a rust-belt state. Still not a peep.
Obama broke even with Clinton on Super Tuesday, ran off a dozen straight wins in mid-to-late February, weathered the Ohio and Pennsylvania storms, and then last week fared better than anyone expected in North Carolina and Indiana. And it was last week that was the decisive moment in this campaign, the night it became clear that Clinton had not made a dent in Obama's coalition. He would win the pledged-delegate race commandingly. He would win the popular vote by any fair measure. And he would win over most of the remaining superdelegates—a steady stream that accelerated the morning after North Carolina and Indiana. The race was ending, and there was nothing that anyone—not Clinton, not the media, and certainly not John Edwards—could do about it.
It was in this context that Edwards finally broke his silence and took sides, the flock leading the shepherd. All Edwards did on Wednesday was to endorse the presumptive Democratic nominee, and there really was never any question whether he'd do that. During his campaign, he said over and over again that he'd happily back Clinton or Obama if either of them won the nomination. Since he dropped out, the suspense has been about whether he'd publicly choose one of them before the Democratic rank-and-file did. He didn't.
Certainly, there are signs that he was at least somewhat torn between Obama and Clinton, as much because of their deficiencies as their positive attributes. For most of his campaign, he aimed his sharpest attacks at Clinton, shredding her for her ties to lobbyists and the establishment nature of her campaign. Most memorably, he ridiculed her as an obstacle to fundamental change in a debate the Saturday night before New Hampshire. That might have been a mostly tactical move—his strategy at that point called for forcing her to drop out after New Hampshire and securing a one-on-one race against Obama for himself—but his words also revealed the depth of his disdain for the way Hillary and Bill Clinton play politics.
By the end of his campaign, though, it was also clear that Edwards had doubts about Obama. Rather than rushing to his defense (as he did in that New Hampshire debate), Edwards derided Obama in a subsequent debate for all of his "present" votes in the Illinois State Legislature. Anonymous Edwards associates were soon quoted in news stories making clear that Edwards was unconvinced about Obama's depth and leadership skills. It also seemed, eventually, that Elizabeth Edwards came to favor Clinton, mostly because of her health care plan, which is more in line with Edwards' than Obama's.
But a bigger factor in Edwards' reluctance might simply have been the risk to his clout and reputation that taking sides represented. Had he made a big show of endorsing Obama before, say, Pennsylvania, Obama's loss would have been read, in part, as a sign of limited clout on Edwards' part. Why risk the kind of humiliation that Al Gore suffered in 2004, when his endorsement of Howard Dean miserably backfired?
And anyway, perhaps Edwards recognized that, even more than usual, endorsements don't seem to matter to voters this year. In general, high-profile endorsements help create or sustain momentum. But the Obama and Clinton coalitions both seem impervious to momentum. Through good news and bad, they have remained stubbornly stuck in place—as West Virginia affirmed on Tuesday.
If there's no chance it will really affect the outcome, then there's really no reason to endorse until the outcome is certain. It seems that that's exactly what John Edwards was waiting for.