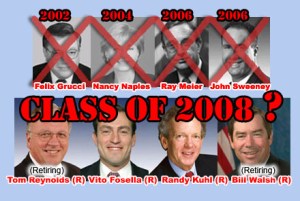 Hillary Clinton send a "personal" letter to Barack Obama about the Florida and Michigan delegates.
Obama calls comments John McCain made about Obama and Hamas "offensive."
Obama, who happens to have the ability to raise nearly limitless amounts of money in small increments, floats the Rasiej-esque idea of voluntarily capping the size of his contributions in the general.
Maybe Harvey Weinstein really is strong-arming Nancy Pelosi.
Obama took a North Carolina superdelegate after a meeting in Washington.

On Vito Fossella, Elana Schor of The Guardian writes, "A bad year for the Republican party got worse today."
The Los Angeles Times blog is also watching Fossella. Real Clear Politics accesses the race for Fossella's seat, and says Democrats may consider candidates other than Steve Harrison and Domenic Recchia.
Commenter Clutchkill, on the ABC News web site, wonders if this will get as much coverage as Eliot Spitzer's scandal.
Gail Robinson of Gotham Gazette says, "[T]hanks to the congressman and his wife for sparing us the 'stand by your man' news conference—at least for now."
Intern Em Whitney reports that last night, Bill de Blasio brought the city to Gowanus.
The federal study of Newtown Creek might get more money.
The Economist considers Harlem charter schools.
Richard Gottfried and Richard Brodsky do not want the Moynihan Station project to be moved under the control of Port Authority.
The developer for the West Side Rail Yards project missed the deadline again.
Harper's does a sort of unbelievable Silda-and-Eliot-inspired photo spread.
The Gotbaums sue Phoenix.
Sewell Chan reports from David Paterson's meeting with Al Sharpton and the Bell family.
Paterson is skipping a Marty Connor fund-raiser.
Roberta McCain stars in her son's new ad.
It seems like New York Times reporter Mike Barbaro is already starting his stint on the City Hall beat [added].
And pictured above is a new ad from the Working Families Party, which would probably like to add Vito Fossella to the list of retiring New York Republican members of Congress.